It's time to get outside and enjoy God's beauty this summer, and that means some fun things to do are coming up around the Tampa Bay area. Enjoy!
And don't forget to check out which incredible Christian music artists are coming to the Sunshine State soon. Just click here. 
The Favorite
In theaters beginning September 7, 2018
Benjamin Bernard has always wanted to be the favorite son, but his brother Luke is loved more or so he perceives. He might perceive this because, Luke is a soccer player, and it's his father, Daniel's, favorite sport. To cope with his anger and resentment Benjamin became a mixed martial arts fighter.
The two grown brothers are on a date with their girlfriends, Ashley and Rebecca, when a tragic car accident takes place, resulting in a fatality and leaving Luke battling for his life.
The brothers must fight not only for Lukes life, but for their relationship with each other, their friends, family, and God. One brother is healed physically and the other is transformed spiritually. In this family dynamic, they experience love, forgiveness, loss, healed relationships, and ultimately the realization that we are all God's favorite.
The Favorite is inspired by events that took place in Luke Bernard's life after a near-fatal car accident which resulted in a "miracle" of healing. Luke walked out of LA County Hospital to the amazement of his doctors and nurses after his parents were told not to expect him to live.
For more information, visit www.thefavoritemovie.com
Mandisa's Girls Night Live
Featuring guests Blanca, American Idol finalist Jasmine Murray, and Candace Payne the Chewbacca Mom. All concert times are 7:00 p.m.
Ticket prices are $28.00 for general admission and $65.00 for VIP entry. Purchase your tickets at The Joy FM.
Lakeland: October 18 at Victory Church, 1401 Griffin Rd., Lakeland, FL 33810
Sarasota: October 19 at Robarts Arena, 3000 Ringling Blvd., Sarasota, FL 34237
Clearwater: October 20 at Countryside Christian Center, 1850 McMullen Booth Rd., Clearwater, FL 33759
Brooksville: October 21 at Grace World Outreach Church, 20366 Cortez Blvd., Brooksville, FL 34601
John Crist's The Human Being Tour
Saturday, November 17, 2018 at 7:30 p.m. Doors open at 6:30 p.m.
First Baptist Church Indian Rocks, 12685 Ulmerton Road, Largo, Florida 33774
Tickets are $25.00 for general admission and range up to $150.00 for VIP entry.
With over 150 million video views, comedian and viral sensation John Crist is the next big thing in stand-up comedy. Whether you know him from viral videos like "Millenial International," "Road Rage in the Church Parking Lot," or BuzzFeed's "Signs You Grew Up Christian," Crist has solidified his comedic prowess with over 200 live shows a year. "It's only a matter of time until John Crist is a household name. He is so likable and his stand-up is top notch." Tim Hawkins, who Crist has performed with over 100 times says, "This guy ain't no opener. John Crist is the real deal."
FREE First Tuesdays at the Glazer Children's Museum
110 W. Gasparilla Plaza, Tampa, Florida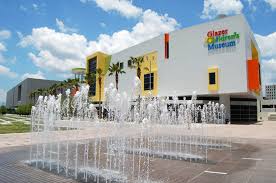 813-443-3861
12:00 to 7:00 p.m.
Every first Tuesday is free admission to the Glazer Children's Museum courtesy of the Children's Board of Hillsborough County. Enjoy all the hands-on exhibits including their current Pop Art exhibit, which teaches kids screen printing, stamping, and other techniques to create their own portrait for the gallery wall.
Tampa Bay Skating Academy in Clearwater and Oldsmar
Clearwater Ice Arena: 13940 Icot Blvd, Clearwater; (727) 536-5843
Westfield Countryside Mall: 27001 U.S. 19 North, Clearwater; (727) 723-7785
Tampa Bay Skating Academy in Oldsmar: 255 Forest Lakes Blvd. North, Oldsmar; (813) 854-4010
Get out of the heat and out on the ice this summer. Enjoy either catching hockey players and figure skaters practicing or getting out on the ice yourself during one of their public sessions. Sessions cost $11.00 with a $5.00 skate rental. Mondays are $6.00 "cheap skates" sessions with $5.00 skate rental. Visit www.tampabayice.com to view their full schedules.
Go Outside
Spend some time with the family exploring nature and God's creation. Information about park and beach locations near you is available at:
Hillsborough County Parks, Recreation, and Conservation, http://www.hillsboroughcounty.org/facilities
Pinellas County Parks and Preserves, http://www.pinellascounty.org/park
Pasco County Parks, Recreation, and Natural Resources: http://www.pascocountyfl.net/index.aspx?NID=296
Polk County Parks and Recreation: http://www.polk-county.net/boccsite/departments/parks-and-recreation/
Manatee County Parks and Natural Resources: https://www.mymanatee.org/home/government/departments/parks-and-recreation.html
Please follow and like us: