Spring seems to have sprung early here in Florida. It's time to get back outside and enjoy God's beauty again, and that means some fun things to do are coming up around the Tampa Bay area. Enjoy!
And don't forget to check out which incredible Christian music artists are coming to the Sunshine State soon. Just click here. 
Florida Strawberry Festival
March 1-11, 2018
303 North Lemon St., Plant City, FL 33563; (813) 752-9194
Gates open 10:00 a.m. to 10:00 p.m.
Adult tickets (ages 13+): $10
Children tickets (ages 6-12): $5. Kids under age 5 are free with paid adult admission
The Florida Strawberry Festival is an 11-day community event celebrating the strawberry harvest of Eastern Hillsborough County. Each year, over 500,000 visitors enjoy the festival's headline entertainment, youth livestock shows, rides, exhibits of commerce and, of course, its strawberry shortcake.
For more information about their Christian music night featuring the Gaither Vocal Band and Casting Crowns, click here.
2018 Chasco Fiesta
March 9-17, 2018
Sims Park in New Port Richey, Florida, corner of Grand Blvd. and Bank Street near the intersection of Grand Blvd. and Main Street
Most days the festival runs from 11:00 a.m. to 11:00 p.m. Admission is FREE.
Chasco Fiesta™ offers nine days of family fun and entertainment along the banks of the beautiful Pithlachascotee River in downtown New Port Richey, Florida. 
An annual tradition, visitors will witness a traditional Native American festival, a boat parade, and a street parade. Other Chasco activities include the Coronation Ball, an award-winning beef barbecue, nightly concerts in the park including The Joy FM Family Night, a carnival including a midway and rides, golf & softball tournaments, flea market & arts and crafts village, as well a 5K race.
The Chasco Fiesta™ provides activities that will thrill and delight any member of your family and the best part is that most of them are FREE!! So make your plans now to come and enjoy the free entertainment, tons of food, and plenty of activities that make up one of Florida's longest running festivals.
Click here to view this year's live entertainment schedule. And click here for information about The Joy FM Family Night.
Spring Fling Little Manatee River State Park 
Saturday, March 24, 2018, 10:00 am –  3:00 pm
Little Manatee River State Park 215 Lightfoot Rd, Wimauma, Florida 33598
The event is free with paid park admission. Food, native plants, and other items will be available for purchase. Donations are gratefully accepted.
Go to www.floridastateparks.org or call 813-671-5005 for more information.
A wild world awaits at Little Manatee River State Park! Explore the wonders of the natural environment waiting around every bend. Visit a variety of environmental displays and exhibits from local agencies and conservation groups. Displays and activities will highlight unique local ecosystems, wildlife, and native plants. Guided programs and activities include a wildlife obstacle course, dip netting, fishing, arts and crafts, and much more. Join us for a day of recreation and education, with food, music, and fun for all ages in the Real Florida!
Additional Information:
The Spring Fling will take place in the main picnic area. Booths will be set up throughout the picnic area, with many booths directly adjacent to the parking lot. Additional programs, activities, and displays will take place in park pavilions, located approximately 1/3 mile from the parking lot. Most areas of the picnic area are wheelchair accessible, with some sections of soft sand. Overflow parking lot is located approximately 2/3 mile from picnic area on the main park drive. The park tram will make a regular circuit from overflow parking to main event area.
If you are a food vendor, environmental educator or volunteer who would like to participate in this year's Spring Fling, please contact Kate Smithson by calling the park's Ranger Station.
The Rock and the Rabbi 
Countryside Christian Center, 1850 N. McMullen Booth Rd., Clearwater, FL 33759
Friday, March 30, 2018, at 7:00 p.m. Doors open at 6:00 p.m.
Ticket prices are $23.00 for general admission ($30 day of the event) and $29.00 for premier seating
The Rock & The Rabbi has been enjoyed by audiences all over the country– from the Tampa Bay Performing Arts Center to Nashville's Ryman Auditorium to New York City's Lambs Theatre.
The Rock & The Rabbi (The Story of a Fisherman and a Teacher) is part concert, part storytelling, and part musical. The blend of acoustic instruments and voices is both emotional and thrilling, and audiences keep coming back. The story comes to the Tampa/Clearwater just in time for Good Friday celebrations on Friday, March 30, for one performance only at the Countryside Christian Center.
For the past 20 years, following every single performance of The Rock & The Rabbi, the entire cast comes out to meet and greet the audience. People typically respond with comments of surprise that the band (comprised of virtuosos with an incredible variety of instruments) is not down in the orchestra pit– they're right up on the stage, that a Storyteller can bring this familiar story to life, and that they go home singing all the songs. The Rock & The Rabbi was written by the creative team of Danny Hamilton and Gary Richardson.
To learn more and order tickets, visit The Joy FM right here.
FREE First Tuesdays at the Glazer Children's Museum
110 W. Gasparilla Plaza, Tampa, Florida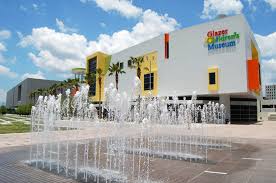 813-443-3861
12:00 to 7:00 p.m.
Every first Tuesday is free admission to the Glazer Children's Museum courtesy of the Children's Board of Hillsborough County. Enjoy all the hands-on exhibits including their current Pop Art exhibit, which teaches kids screen printing, stamping, and other techniques to create their own portrait for the gallery wall.
Tampa Bay Skating Academy in Clearwater and Oldsmar
Clearwater Ice Arena: 13940 Icot Blvd, Clearwater; (727) 536-5843
Westfield Countryside Mall: 27001 U.S. 19 North, Clearwater; (727) 723-7785
Tampa Bay Skating Academy in Oldsmar: 255 Forest Lakes Blvd. North, Oldsmar; (813) 854-4010
Get out of the heat and out on the ice this summer. Enjoy either catching hockey players and figure skaters practicing or getting out on the ice yourself during one of their public sessions. Sessions cost $11.00 with a $5.00 skate rental. Mondays are $6.00 "cheap skates" sessions with $5.00 skate rental. Visit www.tampabayice.com to view their full schedules.
Go Outside
Spend some time with the family exploring nature and God's creation. Information about park and beach locations near you is available at:
Hillsborough County Parks, Recreation, and Conservation, http://www.hillsboroughcounty.org/facilities
Pinellas County Parks and Preserves, http://www.pinellascounty.org/park
Pasco County Parks, Recreation, and Natural Resources: http://www.pascocountyfl.net/index.aspx?NID=296
Polk County Parks and Recreation: http://www.polk-county.net/boccsite/departments/parks-and-recreation/
Manatee County Parks and Natural Resources: https://www.mymanatee.org/home/government/departments/parks-and-recreation.html
Please follow and like us: