by Gina Gardner, Steppes of Faith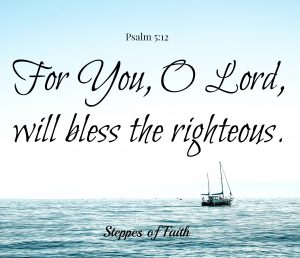 "For You, O Lord, will bless the righteous." Psalm 5:12
As if the end of the school year isn't hectic enough, my ten-year-old son had to face an unexpected situation where his integrity was tested. It seems the problem was that he was getting too wiggly in class and distracting others. He just wouldn't settle down despite his teacher warning him several times over several weeks.
She knew he was an A+ student and a nice kid, so she presented him with an ultimatum. If he didn't accept it, he would have a permanent mark on his report card. The big deal about that is he would no longer be eligible for a special award that's given only to the fifth graders who have completed elementary school with continual A's (that's twelve straight quarters of being on the Principal's Honor Roll) and no bad behavior marks.
My son had to decide what to do. Should he take her up on her challenge, or should he just accept the consequences? He knew he wanted that award pretty badly, so he decided to take the challenge: a letter explaining why he deserved to have the mark removed.
Have you ever had to make a difficult decision or perform an unpleasant action that you didn't want to do? It's happened to a lot of us. We find ourselves trying to figure out what to do and what to say. At the core of it, though, is how should we display our integrity in the middle of it? How do we do it?
And what exactly is integrity?
What is Integrity?
You might think of yourself as being a good judge of character. If you are, then you're picking up on other people's integrity.
These are the people you like being around. They're the one(s) you call when you need help in the middle of the night. It's the man or woman you enjoy working with and look forward to seeing every day. It's the coach you know who truly cares about teaching your kids a certain sport and you pray that your child is on their team again next season. It's the plumber, landscaper, or electrician you call each time because you know they'll take good care of you. You know who I mean.
Why are we attracted to people like this? It's because of the sincerity in their heart and their true desire to help others. They're genuine and genuinely kind. They're the good guys, and we love them.
Webster's New World Dictionary and Thesaurus defines integrity like this: "1. completeness; wholeness, 2. unimpaired condition; soundness, 3. honesty, sincerity, etc." Synonyms include, "uprightness, honor."
More importantly, the Bible defines integrity as someone who is honest, trustworthy, respectful, and keeps their promises.
It's basically anyone who is like Jesus.
Jesus, the Model of Integrity
Jesus is the ultimate good guy, obviously. He has the greatest integrity of anyone. If He told you He's coming to visit, He'll show up. If He says, "You are healed," then you are healed. If He says He forgives you, you know He's telling the truth. There's no reason to ever doubt His word.
Since we are told to deny ourselves, take up our crosses, and follow Him (Matthew 10:38), we ought to be striving to be like Him every day. At its most basic, it means always being honest, truthful, and respectful regardless of the situation. We might still pay some heavy-duty consequences for our actions, but if our response to them is honest and humble we emerge with victory.
We gain more respect too. People with integrity respond properly to problems, and others are attracted to it. They admire it. It's one way how Jesus gained followers when He walked among us.
Whether it was the Pharisees and scribes, or townsmen, or even his own brothers, Jesus withstood ridicule and persecution like no one ever can. He demonstrated integrity at every turn. He could do this because He is God, and God cannot betray His own character or else He would not be perfect and holy.
Of course, we are not perfect, but we can still model integrity by how we respond to difficult situations.
Secret Integrity
Once we understand the need for integrity and the good it does, it gets easier to mold it into our actions when others are watching us. But what about when no one is looking?
There's a great song that never made it to the radio called Stand Amazed. A contemporary Christian trio called 33 Miles sang it back around 2007. The chorus of the song says,
"When all the lights go down, when no one's looking, no one is around,
I want to be the same man that'll serve You then like I serve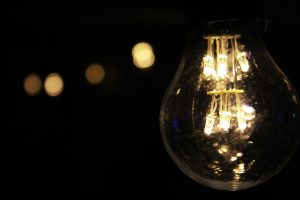 You now.
That my convictions never change, only my need for You remains
As real as the moment I was saved, so I will always stand amazed."
When I heard that song, I pictured the scene in my mind. I'm sitting in the dark, all alone. No one sees what I'm doing or hears what I'm saying. Only God does. And I asked myself, am I the same person alone with God as I am in front of others? Do I have the same integrity?
It was that song that reminded me that I can't have a split personality where I act like one person at church or among other Christians, yet behave completely differently with non-believers. Or even if I'm alone. I need to have integrity no matter where I am or who I'm with because I want to please God more than anyone else.
As a writer, that means I always need to be honest and respectful to my clients. They need to know I'm someone they can trust (especially when it's time to hand them an invoice). As a mom, my kids need to know that they can depend on me no matter what the situation is including what I say in meetings with teachers, school counselors, and coaches, as well as helping with difficult homework. As a Christian, others need to know I'm someone who picks up her cross daily and practices what she preaches (so to speak) like sowing kindness and showing grace.
What I'm trying to say is whatever we think, feel, and say require the same integrity that our public actions do. After all, as the saying goes, our thoughts determine our actions.
Rising to the Challenge 
When my son sat down to write his letter to his teacher, My husband and I gave him little prompting. We made some suggestions like saying "thank you for giving me a second chance" and "I'm sorry." Other than that, he was on his own. He disappeared into his room and closed the door.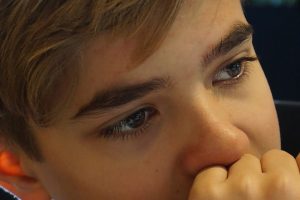 About thirty minutes later, my son emerged to let us read his letter. That's when I knew that God was working on his integrity. Not only had he said "thank you" and "I'm sorry," he also said he didn't deserve to have the mark removed from his record. He told her he was wrong to act the way he did, that he was disrespectful, and as much as it would jeopardize a goal he had, he felt she was justified in making the mark. He also promised to behave better and use better manners regardless of the outcome.
Let me tell you, it melted my mommy heart completely!
I hugged my son to the point of crushing him. I was so proud of him! He not only showed maturity and humility, he displayed integrity. He was honest, honorable, and respectful. And he did it through his writing…while he was alone…in his room with just his pen, paper, and God.
Good Character Development  
The apostle Paul tells us that we should be happy for our problems; they offer us opportunities to put our faith in action. Romans 5:4 says, "…But we glory in tribulations, knowing that tribulation produces perseverance; and perseverance, character; and character, hope…Hope does not disappoint."
It's said you don't know what you're made of until you're faced with difficult situations. So, count it all joy because trials and problems produce good character in us. It strengthens our faith and trust in God, and it shores up our integrity. And if you can have the same honesty and honor in your responses- even when no one is looking- God will bless you for it.
Unexpected situations don't have to get the best of you. Lean on your faith and base your decisions on the integrity God is creating in you.
Because you just never know when you might be offered a second chance for it.
Your Turn
How have you responded to difficult situations? Is it hard to be the same person even when no one but God is looking? Is there an aspect of integrity you would like to ask God to help you strengthen? God blesses righteous prayers like that. I'm more than happy to agree with you before God about it. Just contact me here.
Further Reading 
Former Super Bowl winner and NFL Hall of Fame coach Tony Dungy is an amazing guy. I'll say it again…AMAZING! I know this because he goes to my church and I've sat next to him during service. You won't find a more humble and honorable man anywhere. He's written many books, one of which is a full, four-week curriculum about developing honor in our sons and husbands called Dare to be Uncommon. I highly recommend it. It's on sale right now at Christianbook.com, just in time for Father's Day!
(Note: I am not affiliated with Christianbook. I just love their stuff and I super admire Coach Dungy. Did I mention how amazing he is?)
Please follow and like us: