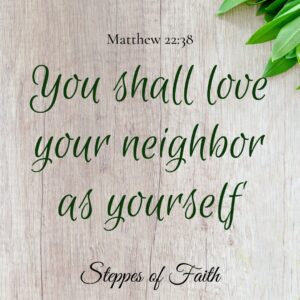 "You shall love your neighbor as yourself." Matthew 22:38
Thousands of people all over the world are mourning the senseless death of George Floyd, who was killed by a police officer in Minneapolis. Before him, we mourned Ahmed Arbery. Unfortunately, there have been many others, but finally, it seems time to address the serious issue of racial injustice.
It has been almost fifty years since Martin Luther King Junior walked through our nation's cities proclaiming peace and equality and condemning racial injustice. Here we are faced with it again, not that it went away.
Protesters have shown up in droves all over the country for over a week now. Bad apples have tried to drown their message by looting and destroying the shops and businesses in their own communities, sometimes in highly organized gangs. But the honest pleas for help from those who took a knee were enough to break our hearts.
Many people are hurting, and many more people have questions. As good as it is to get the conversation started about racial injustice, an extraordinary question remains.
How is the church going to respond to it?
What can we do?
We don't need to look any further than the Bible to find the answers to the issue of racial injustice. The Good Book speaks many times about it. God's thoughts and desires are clearly made known to us.
Nurture Life
Genesis 1:27, "So God created man in his own image, in the image of God he created him; male and female he created them."
Galatians 3:28, "There is neither Jew nor Greek, there is neither slave nor free, there is no male and female, for you are all one in Christ Jesus."
God is the Creator of every living thing. Nothing and no one who has received life without God freely giving it. That makes us all the same.
But for those who have accepted Jesus Christ as their Savior, we do not merely have life. God calls us to nurture it in others.
We are all the same. We all have issues, whether it's finances, employment, relationships, or disease. As the old saying goes, we all put our pants on one leg at a time. God did not make us different, and He never intended for us to treat each other differently. But that's what sin does when Satan goes on a rampage. He creates chaos and division while God quietly pleads for us to be kind, loving, gentle, thinking of others as better than ourselves (Philippians 2:3).
The body of Christ should nurture life in others. We are all called to honor the least of these. If we don't, we give the devil plenty of room to sow chaos and sin, not the least being racial injustice.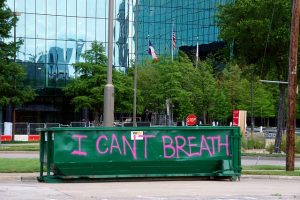 The Body of Christ's Purpose
First Corinthians 12:12-23 reminds us we are all members of one body—the church body—and each member of the body has a unique function, the greatest of which is to love and honor the weaker members.
"For as the body is one and has many members, but all the members of that one body, being many, are one body, so also is Christ. For by one Spirit we were all baptized into one body—whether Jews or Greeks, whether slaves or free—and have all been made to drink into one Spirit…Those members of the body which seem to be weaker are necessary. And those members of the body which we think to be less honorable, on these we bestow greater honor."
The Bible further reminds us of the importance of caring for others in verses 24-26.
"But God composed the body, having given greater honor to that part which lacks it, that there should be no schism in the body, but that the members should have the same care for one another. And if one member suffers, all the members suffer with it; or if one member is honored, all the members rejoice with it."
The Lord is telling us, the body of Christ, to be sure to look out for the weaker members. The Bible doesn't imply the word weaker here as physical strength necessarily or that any one race is above another race. What He is saying is He recognizes there will be times of inequality. And it is up to the other members of the body to rectify it because if we don't, we all suffer.
Likewise, if we can lift each other and continually encourage each other, there is great cause for rejoicing.
God is Impartial
Since God created us all, the church should display more considerable evidence of impartiality.
I heard on Christian radio recently how one community tried to bridge the racial divide by inviting the choirs from both an African American church and a white church to trade places for one week. The African American choir prepared and sang songs to the white congregation, and vice versa. The commentator then remarked that it might have been a better exchange if the two choirs sat down and tried to write a song about Jesus together. He argued that it would create meaningful dialogue and understanding of each other. Because with greater understanding comes greater empathy. And with greater empathy comes greater impartiality.
God, Himself, is impartial. And because He is, we the body the Christ—the church—should also display impartiality.
"Truly, I understand that God shows no partiality." Acts 10:34
"Do not judge by appearances, but judge with right judgment." John 7:24
There is no room for racial inequality in the kingdom of God. Instead, we are called to show our greatest empathy and to judge with right judgment. And, what is the standard for right judgment?
The standard is simply to love as Jesus loves.
The Greatest Commandment            
We initially find the greatest commandment in Deuteronomy 6:4. In the Jewish faith, it is called the Shema.
"Hear, O Israel: The Lord our God; the Lord is one! You shall love the Lord your God with all your heart, with all your soul, and with all your strength."
Later, Jesus updated His commandment, and it is the foremost principle of the Christian faith.
"Jesus said to [the Pharisee], 'You shall love the Lord your God with all your heart, with all your soul, and with all your mind. This is the first and great commandment. And the second is like it: You shall love your neighbor as yourself.'" Matthew 22:36-38
In John 13:34, we read more about Jesus' commandment.
"A new commandment I give to you, that you love one another: Just as I have loved you, you also are to love one another."
The theme here is love. God's greatest commandment and desire for His church are for us to love one another. Without it, it is almost impossible to exercise right judgment, to look at the heart of a person. It is also impossible to show grace, compassion, or forgiveness.
Love is the Answer to Injustice
The apostle Paul figured out what it means to love others as God does in 1 Corinthians 13:1-3.
"Though I speak with the tongues of men and of angels but have not love, I have become sounding brass or a clanging cymbal. And though I have the gift of prophecy and understand all mysteries and all knowledge, and though I have all faith so that I could remove mountains but have not love, I am nothing. And though I bestow all my goods to feed the poor, and though I give my body to be burned but have not love, it profits me nothing."
Paul's words hit the nail on the head. If we do not have love in our hearts—true love—there can be no room for empathy or compassion. Paul, in fact, says without love, we are nothing. Instead, we are just sounding brass and clanging cymbals.
We've seen a lot of that lately, unfortunately. Many people commented that rioters and looters are drowning out the protesters' message, and they're right. Clanging cymbals were all we could hear.
There was no love.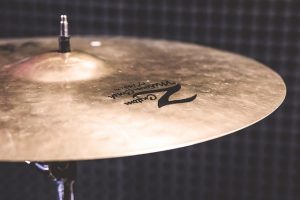 What True Love Looks Like
Because of the power of sin, feeling love for others can be difficult to perform. Thankfully, Paul reminds us of what love looks like in 1 Corinthians 13:4-8. We commonly hear these famous verses at weddings, but Paul's words are for all of us regardless of time or place.
"Love suffers long and is kind; love does not envy; love does not parade itself, is not puffed up, does not behave rudely, does not seek its own [self-interests], is not provoked, thinks no evil, does not rejoice in iniquity but rejoices in the truth; bears all things, believes all things, hopes all things, endures all things. Love never fails."
Love doesn't behave rudely. It does not allow us to focus on ourselves, and it does not rejoice in the misfortune of others. If we truly have the love of Christ in us, then we allow it to help us bear all things and believe all the good things of God. Love keeps us hopeful for positive outcomes, and it perseveres during the hard times.
If we can love like that—selflessly, with joy, with strength—there is every reason to hope. We have reason to believe God will use this time to bring justice to a great injustice. We have reason to hope for right judgment and an end to racial inequality.
But the love must begin with us, the church.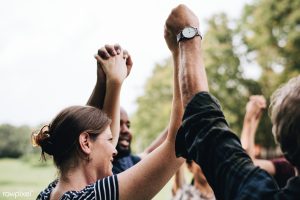 God's Behavior Checklist
Love should always be honest and genuine. Otherwise, it's meaningless, and injustice will continue in the world. Romans 12:9-20 addresses explicitly how a Christian should behave when it comes to the issue of injustice in any form and general treatment of others. Think of it as God's checklist.
Let love be without hypocrisy.
Abhor what is evil.
Cling to what is good.
Be kindly affectionate to one another with brotherly love, in honor giving preference to one another,
Not lagging in diligence,
Fervent in spirit,
Serving the Lord,
Rejoicing in hope,
Patient in tribulation,
Continuing steadfastly in prayer,
Distributing to the needs of the saints,
Given to hospitality.
Bless those who persecute you.
Bless and do not curse.
Rejoice with those who rejoice.
Weep with those who weep.
Be of the same mind toward one another.
Do not set your mind on high things but associate with the humble.
Do not be wise in your own opinion.
Repay no one evil for evil.
Have regard for good things in the sight of all men.
Live peaceably with all men.
Do not avenge yourselves ("' Vengeance is Mine, I will repay,' says the Lord")
If your enemy is hungry, feed him; If he is thirsty, give him a drink.
Paul sums up God's grand list with this from Romans 12:21.
"Do not be overcome by evil but overcome evil with good."
If we can all endeavor to overcome evil with good and the goodness of God, we will finally achieve justice for all.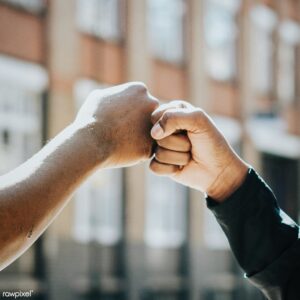 There's No Racial Injustice in Heaven
One day, we will all stand before the throne of God where those of us who have accepted the gift of grace will witness a beautiful scene I wish all of us could see. Revelation 7:9 describes it this way:
"After this I looked, and behold, a great multitude that no one could number, from every nation, from all tribes and peoples and languages, standing before the throne and before the Lamb, clothed in white robes, with palm branches in their hands."
Heaven isn't just for people of particular skin color. The gift of grace and the promise of heaven is for all of us. Unfortunately, many will not stand before the throne and before Jesus. But that does not preclude us from making every attempt at reaching out to others with love and empathy.
We, the church, have a great opportunity before us. We have the chance to help bridge a great divide and help right a great wrong. But it can only be achieved if we have willing hearts to love.
Love in Action
How, then, do we love? What does that look like?
Prayer. Everything begins with prayer. Pray for others by taking your concerns to the Lord, the One who holds all power, and sincerely seeks their good. God can do anything He desires, and He longs to please His children. When we seek Him first, the rest will fall into place.
"Seek first the kingdom of God, and all these things will be added to you." Matthew 6:33
Action. Prayer should be followed by action. We cannot show love if we don't actually do something. How you choose to do it is up to you, but here are a few ideas.
Write letters to your local city, county, and state officials lobbying for changes in how your local police treat African Americans.
While you're at it, write a letter to your local newspaper expressing the need for change.
Consider attending a protest where you can learn, listen to concerns, and offer to pray with others.
Volunteer to help local small businesses that have been affected by violence. Offer to help clean up, paint, or make repairs.
Here are a few other ideas taken from my local newspaper. Many of the suggestions concern local organizations, but there are plenty of other places on the national level for you to consider. You might also use the local ideas to see if you have any in your area.
Donate to the cause, get educated, and learn more about how to help from the Steppes of Faith Linktree link.
Listen. Above all, what people need is to be heard. Take the time to listen to not just those in the African American communities but everyone. Racial injustice ultimately affects all of us. Now is the time to listen and learn.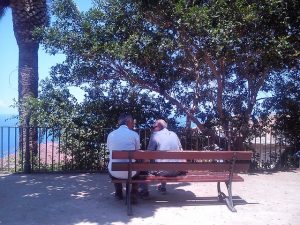 The church has a duty to perform here. If our country is ever going to eliminate racial injustice and heal our self-inflicted wounds, we need to respond with empathy, open ears, and willing hearts. Now is the time to love others more than ourselves and to actively show it.
We can make a difference in our communities. We can help end racial injustice. It should begin with the church.
"But the Lord said to Samuel, 'For the Lord sees not as man sees; man looks on the outward appearance, but the Lord looks on the heart.'" 1 Samuel 16:7
Please follow and like us: