by Gina, Steppes of Faith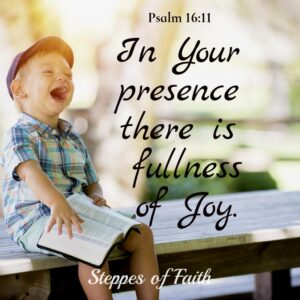 "In Your presence is fullness of joy." Psalm 16:11
I'm dreading middle school. I've heard the stories about how different the teachers are, the homework load, and peer pressure. Those are things my son has to get to used to, no question, but my issue isn't about all that. It's how it's all going to affect him emotionally and spiritually. See, he's only a fifth-grader right now and sixth grade is still five months away, but I can already see a change in him. Lately, he's looking at life as a glass that's half-empty…and it's driving me crazy. So, I'm trying to teach him how to look at life like it's a glass that's half-full.
I'm a hopelessly optimistic person, so it comes easy for me. Teaching someone to have positive thinking is new territory, but I have a secret weapon. In fact, it's the same weapon you have. It's the Bible. God has already given us the instructions we need to help our kids successfully navigate their changing seasons of life and forever conquer pessimism.
Here are four ways I'm trying to teach my son. Maybe they will help your child too.
Remembering God's Promises
Being optimistic doesn't always come naturally to some people. As adults, we can figure out how to manage and cope with unpleasant situations in different ways. It's a little tougher for kids. They don't have any experience yet, so it can be difficult for them to see how things can get better.
One way we can teach our kids how to have glass half-full thinking is by remembering God's promises. The Bible tells us a bunch of them, so I find it helpful to pick out a few that I often repeat to my kids (and myself) to encourage them every day. You probably have a few favorite verses of your own. Here are some of the ones I like:
"I can do all things through Christ who gives me strength." Phil 4:13
"When I cry out to You, then my enemies will turn back. This I know because God is for me." Psalm 56:9
"All things are possible to him who believes." Mark 9:23
"His angels encamp around all those who fear the Lord, and delivers them." Psalm 34:7
"I will rejoice over them to do them good." Jeremiah 32:41
"And we know all things work together for good to those who love God." Romans 8:28
"My grace is sufficient for you, for My strength is made perfect in weakness." 2 Corinthians 12:9
"He will never leave you nor forsake you. The Lord Himself goes before you and will be with you." Deuteronomy 31:6
Memorizing a few key verses is a handy tool to battle the enemy, Satan, and remind our kids how much God loves them and is always for them.
Counting Blessings
Many people don't stop to count their blessings unless it's Thanksgiving Day. Yet, God tells us to count them every day and to never forget them. Psalm 103:2-5 says,
"Bless the Lord, O my soul, and forget not all His benefits. Who forgives all your iniquities, who heals all your diseases, who redeems your life from destruction, who crowns you with lovingkindness and tender mercies, who satisfies your mouth with good things, so that your youth is renewed like the eagle's."
God gives us so many reasons to be thankful, so many blessings to count. Our salvation most of all, but there are so many others. Teach your child to consistently stop and look around them for the small ways God blesses them. For example, your child might see God's blessings when…
…a friend shares a favorite snack,
…the class unexpectedly gets five extra minutes for recess,
…it's raining, and your daughter finds a long-forgotten umbrella in her backpack,
…the teacher acknowledges your struggling son's hard work,
…your daughter suddenly gets the part she wanted in the school play,
…you son finds a long-lost toy he so desperately missed.
Remember, everything passes through God's hands. His fingerprints are all over everything we experience every day. He's always blessing us. Our kids simply need to recognize that that's what's going on.
Aiming for Kindness
A great way to teach our kids glass half-full thinking is to put their faith into practice. Jesus tells us in Matthew 22:37 that the greatest commandment is to love God first, and the second greatest commandment is to love others like we love God (Jesus-Others-You = J-O-Y). We can love others by aiming to do random acts of kindness as often as we can.
Acts of kindness are rooted in a heart that wants to serve others, but that can be a challenge. Our precious kids can often have hearts like selfish cavemen. Nevertheless, performing acts of kindness teaches kids to get their minds off themselves and open their eyes to the needs of others.
If we can be consistent about prompting our kids to serve others, eventually they will do it on their own. And not just through formal, service-oriented projects, but also randomly as they move through their day, which is something God desires of us all.
I believe that when we commit acts of kindness it is us who receive the most joy, which leads to a greater glass half-full way of thinking.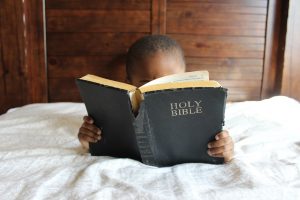 Prayer
Of course, the best source of glass half-full thinking is God Himself. We can learn about Him through His word and connect personally with Him through prayer. Teach your child to pray about what's bothering him or her and to ask the Lord for strength. He is more than able to turn your child's half-empty thinking into all-out gladness.
"You have turned for me my mourning into dancing. You have put off my sackcloth and clothed me with gladness, to the end that my glory may sing praise to You and not be silent." Psalm 30:11-12
We parents should pray too. Satan is constantly battling for the minds of our kids, and he uses a wide variety of methods to do it. He is most effective when we are feeling sad or upset. It means we need to practice some spiritual warfare by getting on our knees and claiming our kids for Christ, for His protection and wisdom for them, and that He will lead them on paths of righteousness as they face new challenges to their faith as they grow.
Prayer is a very powerful weapon against glass half-empty thinking. Let's engage it as often as possible so our kids can learn to be rooted in God's truth about them and encouraged by His constant and loving presence.
Fill It to the Top
Being a kid isn't easy, but we can encourage them when we teach them God's truth. They can begin to look at life as glass half-full (or even all the way full) instead of giving in to Satan's attacks of sadness and gloom. Let's equip our kids with what the Bible says so they will be ready to face any challenges they encounter with a smile on their face and a positive outlook both now and in the years to come.
Your Turn
In what ways are you teaching your kids to have optimism? How is your child looking at situations as glass half-full? Come share your stories with us in the comments section below, won't you? Or you can contact me here. We're all in this together. Let's lift each other up today.
Further Reading
Need some reminding about the joy of the Lord? The folks at Knowing Jesus have put together a list of 62 Bible verses to help you and encourage you today. You can find it right here (not an affiliate link).
Please follow and like us: