by Gina Gardner, Steppes of Faith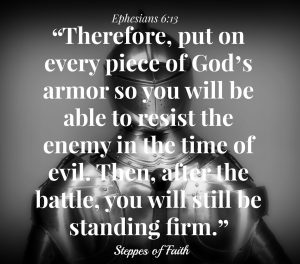 "Therefore, put on every piece of God's armor so you will be able to resist the enemy in the time of evil. Then, after the battle, you will still be standing firm." Ephesians 6:13 NLT
It's not easy being a kid. Children these days have so many things they should avoid or be wary of, like bullies, drugs, weapons, foul language, sexual molestation, and, unfortunately, more like peer pressure to conform. It almost sucks all the joy out of childhood anymore. The astonishing and sad part of it is that the need for vigilance starts as early as the first grade, if not sooner in some places.
As parents trying to raise kids with a heart for Christ, how can we help them put on the whole armor of God when they go out into the world every day? How can we teach them to be watchful and wise? As is so often the case, it begins with making some daily decisions.
What is the Armor of God?
Just like any warrior, a Christian soldier must be dressed appropriately for battle with evil forces every day, even if the soldier is pint-sized. Ephesians 6 explains what's included in the armor of God. Let's take a closer look at each one and how you can help your kids put it on.
The Belt of Truth 
"Stand therefore, having girded your waist with truth…." First, we are told to stand, which is a call to take a firm position in the battle with Satan. It's an essential tactic in spiritual warfare because if we can't stand firm in our faith with the proper attitude, then we can't stand at all (Isaiah 7:9). Our defeat is certain without it. Once we're ready, we start getting dressed.
The first piece of armor we are told to put on is the belt of truth. In Jesus' time, a soldier would often wear a loose-hanging tunic that was cinched up with a belt so that the loose material wouldn't become a potential danger or hindrance in battle.
Today, we still have to cinch up our tunics. We bind up the loose ends of our spiritual lives to remove Satan's dangerous hold on us. For kids, it' a call for honesty so that they can resist the temptation to lie, gossip, cover up, or exaggerate. These things only stir up trouble. A child who wears the belt of truth will win against Satan's evil work and give her the victory over hypocrisy as she tries to make good choices, even when under peer pressure.
How You Can Help Them Put It On:
Second Timothy 2:4 says, "No one engaged in warfare entangles himself with the affairs of this life, that he may please him who enlisted him as a soldier." As a soldier is removed from civilian life, kids can remove themselves from the chaos that so often occurs at school or wherever else they go. Explain the importance of not getting entangled in nonsense that goes on around them, but instead, keep their focus on God.
When kids decide to put on the belt of truth every day and cinch up their spiritual loose ends, they will stand victoriously every time.
The Breastplate of Righteousness
The purpose of a breastplate is to protect your torso, including your heart, while you're in battle. Putting on God's breastplate every day protects His righteousness and holiness that He produces in you. It's your primary piece of armor as you face Satan's attacks.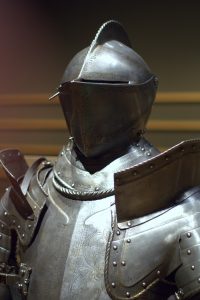 The breastplate is also a protector of your faith and love (1 Thessalonians 5:8). It is through faith that we can resist temptation and lean more on God's promises and truth. And it is through our love for Christ that we can walk obediently.
How You Can Help Them Put It On:
Encourage your kids to put on their breastplates every day by sticking firmly to what they've learned so far about God's promises for them. They will be challenged by worldly ideas and culture will attempt to influence their choices. But with their breastplate of righteousness on, they'll be better able to withstand Satan's schemes and protect their hearts.
The Shoes of Peace 
Wearing the right shoes can make a world of difference in what you're doing. For instance, you wouldn't wear 4-inch stiletto dress shoes to play soccer and you wouldn't wear flip flops to climb Mount Everest. You need to have the right shoes to be successful.
In Roman times, the soldiers wore what equates to baseball cleats or golfing shoes. Their boots had nails poking out the bottoms to help them grip the ground during combat. As Christians, we also need combat boots to fight against evil. The apostle Paul in Ephesians 6 encourages us to wear shoes of peace instead of nails. They remind us of our salvation through Christ and that we are now at peace with God. His anger has been satisfied. He is for us and with us, and this gives us the confidence to stand firm in the battle.
It's the assurance of peace that helps us to share it with others. My boys frequently come home from school telling me a story about some sort of argument or how so-and-so got in trouble because of something said or done. Conflict in our schools is very real and sometimes scary. Which is why it's so important for our kids to put on their boots of confidence and be peacemakers.
How You Can Help Them Put It On:
Matthew 5:9 says, "Blessed are the peacemakers for they shall become the sons of God." Kids who are confident in God's strength and support are uniquely positioned to spread the Gospel. Talk to your child about their choice of footwear and encourage them to wear the shoes made of peace.
The Shield of Faith 
It's pretty clear that we need to carry a shield if we're going to do battle with the enemy, Satan. He's super persistent and crafty in his attempts to bring us down, so we need extraordinary protection.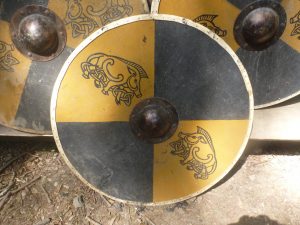 Ephesians 6:16, when Paul is describing the armor of God, he tells us to, "…above all, taking the shield of faith with which you will be able to quench all the fiery darts of the wicked one." Did you catch that? ALL the fiery darts. Not just one or two, but all of them. And Satan is firing them off like he's holding a Kalashnikov automatic rifle.
Temptations come at us all day, every day, in every shape and size. Paul describes them here as flaming arrows constantly coming at us. Our shield of faith protects us against these arrows and darts as we put our trust in God alone. Without our shield, we make ourselves vulnerable to Satan's lies and false promises, which ultimately destroy us.
How You Can Help Them Put It On:
For many kids, their shield might be the absolute, number one piece of armor they need when they go out the door every day. Encourage them to decide daily to keep their shields firmly in front of them and fight against the temptations and peer pressures they face.
Don't take this lightly, Mom and Dad. It's a very serious, conscious decision our kids must make so they hold true to the Lord and trust Him more than anyone else, including their best friend who might cause their shield to slip and allow a flaming arrow a direct hit.
You don't want your kids to be brought down by ignorant influencers and miss God's blessings. Make sure they always have their shields ready to go.
The Helmet of Salvation 
As you already know, a helmet is meant to protect your head, which is another of Satan's targets. He tries really hard to convince you that your salvation isn't real by placing doubt and discouraging thoughts in your mind.
God assures us of our salvation repeatedly throughout Scripture. Satan cannot take it away. Yet, too often, people start to wonder if they're still saved, if God loves them, if God is mad at them, if God could ever forgive them. When these thoughts start, Satan has you right where he wants you. James 4:7 tells us to, "Resist the devil and he will flee from you." You can resist his lies by protecting your head (your thoughts) with God's helmet of salvation.
How You Can Help Them Put It On:
Kids might not always think about whether their salvation is assured (if they have come to faith already), but they are frequently bombarded by lies and doubts about other areas of their Christian walk. Help your child to understand God's promises and truth by reading the Bible together as often as you can. Life is busy, for sure, but make an effort as best you can. It doesn't necessarily have to be daily.
Get creative about when you talk about the Bible. Talk with your kids in the car, at the bus stop, standing in line at the store, around the breakfast or lunch or dinner table, at bedtime…wherever you happen to be. It only takes a few seconds of reminding them of God's love and grace for them to keep their helmets firmly in place.
The Sword of the Spirit 
Movies and television portray swords as weapons of death. God tells us that our sword is of the Holy Spirit. The sword He gives us is the truth of His word– the Bible– which we use both defensively and offensively to fight Satan's attacks.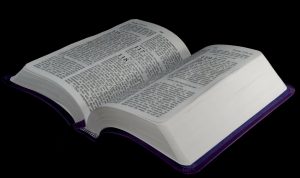 The Greek word for sword is used to describe a small, knife-like weapon maybe about 6-18 inches long. I measured my Bible and it's about ten inches long, which means it falls within that weapon size rather nicely. Small weapons can still do a lot of damage. The truth of God's word is even more powerful in the battle against evil.
How You Can Help Them Put It On:
There's a trick to how you use it. Here's what you do: Read it. It's that simple. Every good soldier has had training in how to use their weapons effectively. Likewise, you can't use your sword of the Spirit without knowing what it says.
Create a daily habit to dig into the Word and learn what God has to say, even if it's only for five minutes. Read on your own and with your kids. And let them see you reading it so they know how important it is. Explain the Scriptures to them and make time to answer their questions no matter what time it is. I've often let my kids stay up way past their bedtimes until every question they have is answered. Their salvation and heart are far more important than missing a few minutes of sleep, don't you agree?
Grab Your Armor! It's Time for Battle!
Our kids can't fight spiritual battles with their worldly wisdom or clever strategies. As smart as they may be, they can never win the fight against Satan's evil attacks without God's help. It's imperative that they make the decision every day to put on God's armor so that they can stand firm.
If your kids are still very little, now is a good time to begin teaching them about peace, faith, truth, and righteousness. As they grow, their hearts will be prepared when the enemy attacks. And, as they mature in their faith, the armor will become much easier to wear and almost like a second skin. It will feel natural. And that's what we want, for them to be so fully prepared that defending their faith and the Gospel flows naturally through their thoughts and actions.
Parents, it's time for battle! Help your kids put on the armor of God every day so that when it's over they will have stood firm.
"For though we walk in the flesh, we do not war according to the flesh. For the weapons of our warfare are not carnal but mighty in God for pulling down strongholds, casting down arguments and every high thing that exalts itself against the knowledge of God, bringing every thought into captivity to the obedience of Christ, and being ready to punish all disobedience."  2 Corinthians 10:4-6 NKJ
Your Turn
How often do you consider that we are caught in a spiritual battle with Satan? How have you helped your kids to resist the devil? Have you practiced putting on the full armor of God? Why or why not? Let's talk about it so our kids can be battle ready!
Further Reading
Want to help your kids put on the armor of God? Here are three great ways you can reinforce God's truth in their lives every day. Note to Readers: I am not an affiliate of Christianbook. I just think they have amazing stuff that helps us to grow in our Christian faith.
A Kid's Guide to the Armor of God by Tony Evans
Nationally respected Pastor Tony Evans challenges kids in his book, A Kid's Guide to the Armor of God. In it, Pastor Evans will help your pre-teen to explore and learn more about our battle with Satan so they can be more confident and skilled at living for God. Learn more here.
Kid's Travel Guide to the Armor of God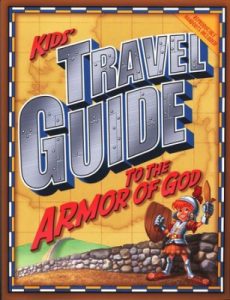 In the latest edition of the Kids' Travel Guide series, your child can learn more about the armor of God through a fun, 13-week lesson you can use at home. Kids will enjoy the adventure as they discover what it means to have bold faith, make a spiritual commitment, and make pit stops for prayer along the way. Ages 5-11. Learn more here.
Full Armor of God Figurine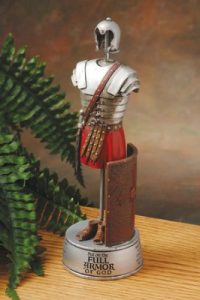 Keep a reminder of what is included in God's armor with a beautiful 3D model. The full color, 9.5" tall figurine is engraved with Ephesians 6:13-17 and has a vintage finish. You can order your own keepsake from Christianbook right here.
Please follow and like us: