by Gina, Steppes of Faith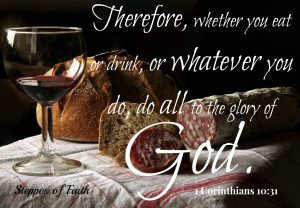 "Therefore, whether you eat or drink, or whatever you do, do all to the glory of God."
1 Corinthians 10:31
Like everyone across America, our family was gearing up to enjoy a great Fourth of July this week. Swimming, grilling burgers, and watching fireworks with friends. It was all planned and set up. That is, until my husband, Dave, got the call. Our church had an emergency. They needed a fun, kind, responsible man to volunteer for their annual sleepaway camp for the middle schoolers, so they thought of him. There was just one catch: they needed him at 8:00 a.m. the next morning, July 5th.
The call was completely unexpected, a shot out of the blue. But, God had nevertheless presented the challenge: would Dave drop everything in his life for the next four days and be a camp counselor for eight sixth graders? Could he skip an upcoming important meeting? Could he find someone to fly his balloon passengers? What about our plans for the Fourth of July and going to the beach later that week? What about family?
My husband had a big decision to make, and he was very torn.
Dave had never been a camp counselor, and he wasn't familiar with handling any boys older than ten. And certainly not large groups of them. He was expected to lead Bible studies with them too, which he had no experience doing. How would Dave know what to say or do?
The fact is he didn't know at all. But he did know that his church needed him. They needed a good man. More importantly, he knew God was calling him, calling him to something big. We prayed about it, discussed it, turned the idea over and over.
And that's when Dave decided to be a man in the MOB.
The MOB in the Scriptures
Dictionary.com defines a mob as a noun this way:
A disorderly or riotous group of people
A crowd bent on lawlessness
A criminal gang
It can also be an acronym for "mother of the bride" or a short term for "mobile."
In a sociological sense, a mob is defined as "a group of persons stimulating one another to excitement and losing ordinary rational control over their activity." When it comes to worshiping God, that one hits dead-on.
Then there's one other definition to consider.
A man in our church defined a mob as Men of the Bible (MOB). It's a group of men who have a vision and are willing to step out in faith based on their belief in a holy, sovereign God. There are numerous examples of men like this in the Bible- men like Isaiah, David, Daniel, Moses, and Paul- each one speaking out and stepping up when God called them.
Whether they were facing ignorant Israelites, evil or misguided kings, or leading a ragtag group of people across a desert, they were all responding to God's call to do something to make a difference for the Kingdom. They were and continue to be great examples for all men.
Every man who steps out in faith to serve others and promote the Gospel is, therefore, an official member of the MOB.
Just Not Feelin' It
I find a lot of men who lack vision or purpose. They're easy to spot. Usually, they look indifferent, unmoved by emotion, feel stuck in a rut, are easily irritated and lack patience, and, sometimes, downright sad. They wake up, go to work, sit in traffic, come home, and head right to their personal man cave.
When I see them in church, they're the ones who play on their phones instead of listening to the message, yawn, look around, sit with their arms folded, fidget, and don't talk to anyone. Maybe you've seen a few men like this.
I'm not saying that all men who check their phones and or seem preoccupied at church are indifferent in general, but the common denominator in the men who do is their lack of vision and purpose in life. They don't feel called to do anything. They don't feel the pull of God's invitation to join the MOB. The rut of their daily routines and the doldrums of everyday life has become so deep their ears, eyes, and hearts have completely closed. Life has become a weekly ritual of gathering a paycheck, finishing the "honey do" list, keeping the kids quiet, and maybe catching a ball game on TV.
They just don't feel God anymore. If you're a wife of a man like this, then maybe you know how frustrating and heartbreaking it is to watch your husband go through life this way. Your kids do, for sure.
The Basics of MOB Membership
How can a man who lacks purpose become a Man of the Bible? It seems like it would be difficult, wouldn't it? To be honest, in some respects, it is. It takes a complete lifestyle change, like quitting chocolate or alcohol or smoking or potato chips forever. It takes the belief that change is possible and a dedication to stick with the process.
Beyond dedication, becoming a member of the MOB takes faith and trust in our big, righteous God. He knows what a man needs to find purpose in his life. In fact, the Bible told us this truth in Jeremiah, 29:11, a famous Scripture verse that bears repeating:
"For I know the thoughts that I think toward you, says the Lord, thoughts of peace and not of evil, to give you a future and a hope."
God knew from the very beginning of time that a man needs a sense of purpose in his life. God is more than happy to hand it out if you would just step out in faith, trusting that He knows what you need.
But here's the key: It takes action. It takes moving out of our comfort zone, facing the giants in your life, and opening yourself up to new possibilities so you can reach others for Christ.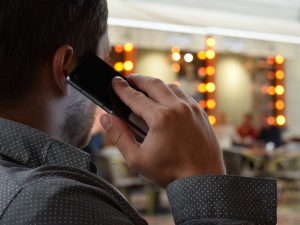 When a Man Hears the Call
Hearing God's call in your life doesn't take as much as you might think. It could happen in any number of ways, but you can usually expect an initial invitation to do something of some sort for someone.
You might be asked to help coach a little league baseball team, help organize the next company picnic, or join your neighborhood association's board. You might be asked to write press releases for a fundraising event, lead a group of volunteers picking up trash, or lend a hand at the local food bank or soup kitchen.
And, sometimes, you might be asked to be a camp counselor for a group of sixth graders.
Dave's Story
I'm going to put it out here publicly that when I first met Dave he didn't want kids. None. At all. Never. Then came along our firstborn, and that was okay with him. It was…manageable. One kid was plenty. Then our twins were born and that put him over the edge. Three was too many.
The problem wasn't so much that he didn't like kids. That would be a lie. No, he just didn't know what to do with them. He lacked vision and purpose. He didn't see where he could fit into a kid's life and how he could ever possibly be a proper influence. Sadly, he hadn't had any good role models growing up.
We rarely realize what's going in God's grand scheme on any given day. Thankfully, hindsight is always 20/20. Dave didn't know it at the time, but when our first son was born, God was laying out the path that would lead him to open his heart to children and provide a new sense of purpose in fulfilling his service to the Lord. He always knew he wanted to serve. He wanted to help the church, but he never thought it would involve kids.
That is until he said yes when he got the invitation one year to help set up carnival equipment and be a human prop for a bicycle stuntman at our church's summer VBS. He was apprehensive, he was unconfident, but he stepped out in faith believing in God's goodness. By the end of that week, most every kid at VBS that year knew who Mr. Dave is simply because of his kindness and joy in serving.
Flash forward to three days ago when he got a similar phone call asking him to serve again. He again felt apprehensive and unconfident. He eventually said yes, this time with the recognition that God was calling him to something good.
From There to Here
Over the course of a decade, Dave went from "no kids, no way" to thinking that kids are pretty cool and he loves being around them. Yeah, he still struggles with our own kids and their button-pushing and meltdowns, but don't all parents?
Yet nowadays, when it comes to kids in general, he's all in. He steps out believing and trusting in God's vision for him, believing it's good despite the fact that he can't see the future. And, all the while, striving to be a positive, godly example of what it means to be a real man (can you tell I'm proud of him?).
God's calling doesn't always mean doing something huge. Dave's not pastoring a church or leading conferences or embarking on national speaking tours. He's simply supervising eight sixth graders at a summer camp and talking to them about Jesus.
Pretty easy gig, wouldn't you say?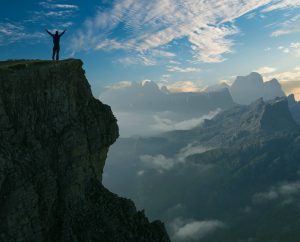 MOB Membership Drive Time
God is always searching for new members to join the MOB. He's always on the lookout for good men, and His membership drive is happening right now!
Have you felt God tugging you to do something? Maybe you don't even realize it's God at all. Maybe it's someone at work who you think won't stop bugging you, or maybe you walk away when you're asked to volunteer at church. Have you considered that maybe it's God calling you?
It's time to quit the routine of the daily drag. It's time to stop the stinkin' thinkin' that this is all life will ever be. God has a plan for you, and He's calling you over so He can show it to you. All you have to do is step out.
It's time for more men to join the MOB!
Will you?
Your Turn
Have you ever recognized God calling you? How did you respond? Was it hard to do? What did you discover about yourself? Share your thoughts and comments with us. Let's encourage each other in our walk with God as we all learn to be members of the MOB.
Further Reading
"Every man was once a boy. And every little boy has dreams…What happens to those dreams when we grow up? What is a Christian man? Why are most Christian men…bored?'
Author John Eldredge challenges men (and women) to explore a man's soul and rediscover the strength God created him to have in his New York Times best-selling classic, Wild at Heart: Discovering the Secret of a Man's Soul.l Full of personal anecdotes and thought-provoking insight, Wild at Heart leads a Christian man with Biblical premise so he can rediscover his inner dreamer and the courage to go after them.
Learn more here.  (This is not an affiliate link)
Please follow and like us: