by Gina Gardner, Steppes of Faith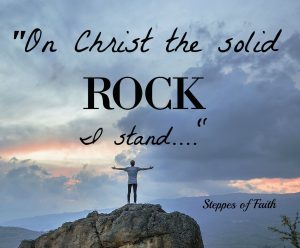 "On Christ the solid Rock I stand, all other ground is sinking sand."
I grew up in Ohio during the 1970s when two of the biggest blizzards the state had ever endured blew through. As a kid, all that snow was tons of fun, and days off from school made it even better. But like a lot of things, eventually the cold and snow got old, which led me to lay in my bed at night huddled under my blankets dreaming about beachfront property- its sand, waves, and bright sunshine.
I was pretty familiar with the beach for an Ohio girl because my grandparents lived in Florida. My family and I would visit them every so often and spend some time at some nearby beaches. We would ride the waves on rafts, build sand castles, chase seagulls, and splash until our arms were too tired to move anymore. This is where I first fell in love with the ocean- the warm sun, the roaring surf, and the soft sand (even if it most of it was in your bathing suit). Back in Ohio, shivering in freezing temperatures under never ending cloudy and gloomy skies, my thoughts often drifted back to the happy days on the beach.
As I grew and started looking forward to life on my own, I sometimes dreamed of owning a house right on the beach. A house with a back porch that looked right out over the water where you could spy dolphins meandering by and listen to the waves crash on the shore all day long. To me, that was heaven. Maybe you can relate.
Of course, I finally learned how much beachfront property costs and discovered there was no way I would ever be able to afford such luxury unless I hit the lottery, which is unfortunately still the case. I still moved to Florida, though, and I've become content to live in a humble home in regular suburbia (honest confession: it's only a 30-minute drive to the beach now instead of 17 hours, woot!).
But I still find myself dreaming of living on the beach sometimes. How awesome it must be to have the ocean just a few steps from your door. Am I right? Yet, here I am working and doing the mom thing like millions of other women. It's not all bad, but it's not the beach.
Sand vs. Rock
Not long ago, I was on my way to pick up my son from karate. He gets done right when the DJ on our local Christian radio station stops for prayer time. On this day, the DJ was talking about putting your trust in the Lord. He reminded me and all the other listeners about the words Jesus spoke concerning this.
Beginning in Matthew 5, Jesus is preaching the famous Sermon on the Mount where He lays out the law of God plain and clear. Here He talks about prayer, love, money, fasting, salvation, and the ever popular Golden Rule. By chapter 7, near the end of the sermon, Jesus tells the crowd the parable of the two builders.
"Therefore whoever hears these saying of Mine and does them, I will liken him to a wise man who built his house on the rock: and the rain descended, the floods came, and the winds blew and beat on that house; and it did not fall, for it was founded on the rock. But everyone who hears these sayings of Mine and does not do them, will be like a foolish man who built his house on the sand: and the rain descended, the floods came, and the winds blew and beat on that house, and it fell. And great was that fall."
In this parable, the house represents a religious life, not religion in general or your faith. It's more of a point Jesus is trying to make to the Pharisees about their pretentious toward God, but it could easily apply to some of us today.
The rain represents divine judgment. When the rain falls on your house, you are wise if you built it on the rock, which is obedience to God's word, faith in Christ Himself through repentance, trust in His grace and mercy, and rejection of the idea that salvation only comes by works. If you build your house on the sand, your house is going to fall right down. Jesus even said it would be a great fall, which is death and eternal separation from Him.
Jesus is the Rock
We read in other places of the Bible that the rock isn't just a big stone. The rock is also Jesus. The Apostle Paul reminds believers about the recently-freed Israelites wandering through the desert and passing through the Red Sea in 1 Corinthians 10. He goes on to say in verse four,
"…and all drank the same spiritual drink. For they drank of that spiritual Rock that followed them, and that Rock was Christ."
Jesus is the Rock, our firm foundation that can stand against the winds of destruction. If we are wise, as Jesus says, we should build our houses on Him so that when the troubles of life coming raining down, and later when the inevitable day of judgment comes, it will stand strong. If we build our faith in Jesus alone and avoid pretentiousness in our spirituality, our house will not fall. This is a wonderful promise from the Lord.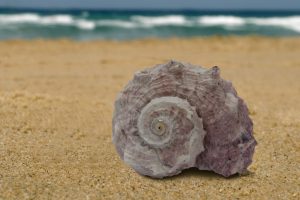 Avoiding the Sand and Choosing the Rock
I turned off the radio and thought about the wind, rain, rock, and sand. As far as I'm concerned, I know that Jesus is my firm foundation. I have given my life to Him and I trust in Him with all my heart, soul, mind, and strength. My faith is in Him and I don't fake it.
But the words of the radio DJ kept ringing in my ears when he had talked about the sand, that we shouldn't build our houses there. After all, sand often sinks and shifts without warning.
Then I realized that we already live on the beach if we are in Christ. All of us live there, except our houses aren't right on the sand like earthly houses. Our spiritual houses are built on the giant Rock of God overlooking the beautiful ocean of His grace and mercy. It's filled with the beautiful sounds of not only seagulls and waves crashing, but also of angels rejoicing and praising God over our true obedience and faith. And then I thought…
When you give your heart to Jesus, you should consider yourself a new homeowner of beachfront property.
That sounds pretty good, I think.
Choosing the Right Property
I may live fairly close to the beach now, but I don't own a house there. And that's fine because I know that I have chosen to build my spiritual house on the Rock of God. The wind and rain may come, but with God, I can withstand it and my house will not fall. He is my firm foundation,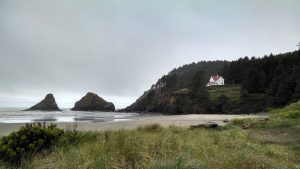 the One on whom I find salvation and on whom I can stand no matter what happens. He makes me secure. He protects me because of His unending love for me.
I like my beachfront property with Him. It's a nice place to be.
And if it's okay with Him, maybe He'll let me dig my toes in the sand sometimes.
Your Turn
Have you ever owned beachfront property? Maybe you experienced how the sand moves and shifts and so you took steps to make your house more secure. When it comes to serving God, have you thought about that Jesus is the Rock, the solid foundation for your spiritual house? Has it been hard to step off the sand? Come share your thoughts and experiences with us. Let's build each other up in Jesus Christ.
Further Reading
Read Jesus' entire Sermon on the Mount here. I promise you will be inspired!
Please follow and like us: