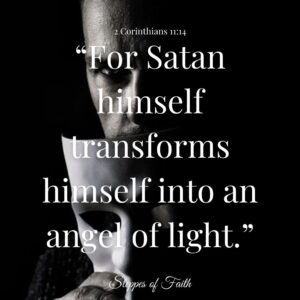 "For Satan himself transforms himself into an angel of light." 2 Corinthians 11:14
When we think of God and heaven, we might also think of angels. The Bible mentions only three angels by name—Gabriel, Michael, and another you might not immediately recall. His name was Lucifer, God's most trusted angel, His Morning Star. But Lucifer rebelled, and God cast him out of heaven (Isaiah 14:12).
Now, as an adversary of God, Satan (which means "adversary") tries very hard to destroy the one thing God loves most—us. He'll do anything to accomplish his goal, even portray himself as an angel of light.
How do we detect Satan and his evil forces when he disguises himself as an angel? Thankfully, God has already given us the answer.
Satan Never Stops
"Your adversary the devil walks about like a roaring lion seeking whom he may devour." 1 Peter 5:8
It cannot be overstated that Satan has been and still is continuously at work to destroy us. The apostle Paul knew this fact very well. He describes how Satan afflicted him in his second letter to the church in Corinth.
"From the Jews, five times I received forty stripes minus one. Three times I was beaten with rods; once I was stoned; three times I was shipwrecked; a night and a day I have been in the deep." 2 Corinthians 11:25
Paul goes on to describe his encounters with thieves, violent treatment from random people, dangerous times in a wilderness and on the ocean, ugly arguments with false teachers, and everyday occurrences of hunger. Satan was doing everything he possibly could to stop God's messenger of the Gospel.
All of Paul's experiences allowed him to preach with great authority about demonic activity. He knew first-hand what Satan can do, which is why he tried to warn the churches in Corinth and Ephesus (and us) by issuing a couple of warnings.
Paul's Warnings
To the Corinthian church, Paul said,
"For though we walk in the flesh, we do not war according to the flesh. For the weapons of our warfare are not carnal but mighty in God for pulling down strongholds, casting down arguments and every high thing that exalts itself against the knowledge of God." 2 Corinthians 10:3-5
And to the Ephesian church, he said,
"For we do not wrestle against flesh and blood, but against principalities, against powers, against the rulers of the darkness of this age, against spiritual hosts of wickedness in the heavenly places." Ephesians 6:12
Paul is warning that our fight with evil isn't within our minds; it is within our hearts by way of spiritual realms. Yet, Satan attacks our minds first by continually disguising himself as an angel of light.
"For Satan himself transforms himself into an angel of light. Therefore, it is no great thing if his ministers also transform themselves into ministers of righteousness." 2 Corinthians 11:14-15
Satan distracts us daily from following God. He entices us with something that might be good on its own, and he ultimately takes us from our godly work. This is how we know whether we are encountering a demon or an angel of God. If you feel pulled away from doing God's work, whether it's parenting, your marriage, your job, or volunteering, Satan is attacking you.
The problem is, once we realize an attack, we often attempt to defeat Satan by using our human wisdom or clever tactics, but this never works. Only spiritual weapons are fully effective against him.
Know God's Word
When dealing with demons, we cannot wait until it is too late and damage is done. We must be intentional about being fully educated on whether it is an angel of God or not. And the only way to do that is to know God's word and what it says about demonic activity. Through the Scriptures, we gain wisdom and discernment to more easily battle against spiritual attacks as God directs us.
"Your word is a lamp to my feet and a light to my path." Psalm 119:105
Scripture helps us to grow our relationship with God and develop trust. Out of that trust, the Holy Spirit leads us on paths of righteousness, and we become more astute about determining if we're seeing light or darkness. He guides us away from the darkness.
"Your ears shall hear a word behind you, saying, 'This is the way, walk in it,' whenever you turn to the right hand or whenever you turn to the left." Isaiah 30:21

Submit and Resist Satan
In addition to reading the Bible daily, the apostle James tells us to resist the devil. But notice in this verse, he tells us the first thing we should do during times of spiritual attack is submit to God.
"Therefore, submit to God. Resist the devil, and he will flee from you." James 4:7
James repeats this command in verse ten when he tells us we must humble ourselves before God's power and holiness.
"Humble yourselves in the sight of the Lord, and He will lift you up." James 4:10
In Greek, to submit means "to line up under," such as soldiers lining up under a commander. Similarly, we are to line up with humility under God's authority as sovereign ruler and follow His leadership, submitting our will to His.
Unfortunately, we often have trouble submitting to Him. Pride gets in the way, and we forget that He is smarter and more powerful than us. But if we can recognize our sin and repent of it, then we can genuinely submit. This is very important because we cannot be obedient without first submitting. And once we are obedient, God will come alongside us to help us do the second part of James 4:7.
"Resist the devil, and he will flee from you."
The word resist here means "to take a stand against." We must stand against the devil under the authority of God. And what better way to do that than to put on the whole armor of God.
Put on Your Armor
"Finally, my brethren, be strong in the Lord and in the power of His might. Put on the whole armor of God that you may be able to stand against the wiles of the devil." Ephesians 6:10
Unless you're a Bible teacher or have an excellent memory, most of us have probably forgotten what the armor of God includes. Let's do a quick review.
Belt of Truth– Wrap yourself in the truth of God's word
Breastplate of Righteousness– Guard your heart against unrighteousness
Shoes of Peace– Stand firm, knowing you are at peace with God through Christ
Shield of Faith– Defend yourself by fully trusting God
Helmet of Salvation– Protect your mind when Satan makes you question your salvation
Sword of the Spirit– Defend yourself against Satan's attacks with the power of God's word
When we engage the enemy, we must prepare ourselves for battle. We must put on the armor of God and use it to its full ability because the reality is, we cannot outrun Satan. He is way more powerful, faster, and more cunning than us. He will chase us until our last breath.
And, we can't outsmart demons. They are way too strong. Only Jesus is powerful enough to fully defeat evil, which is why we must walk closely with Him.
"Greater is He who is in me than he who is in the world." 1 John 4:4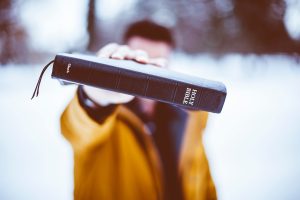 Wielding Your Sword
Of all the pieces of our armor, the most important and powerful piece is the sword, which is the word of God. We cannot resist the devil without knowing how to wield it. Like all weapons, using a sword requires training.
Through prayer and study, we come to know what angels of God do and how they behave. We come to know who God is and the power He has. Without the truth, we cannot begin to discern a good angel from an evil angel. And it's in that ignorance that Satan typically attacks.
So, we read the Bible daily to gain wisdom and power against the principalities that constantly attack us. In doing so, we can tread the scorpions under our feet (Luke 10:19) and resist the wiles of our enemy. With that power, we use our sword to speak directly against Satan.
Speaking Scripture
Remember, speaking Scripture is how Jesus resisted Satan's three temptations as He fasted and prayed for forty days before He began His earthly ministry (Matthew 4:1-11, Mark 1:12, Luke 4:1-4).
"Now when the tempter came to Him, he said, 'If You are the Son of God, command that these stones become bread.' But He answered and said, 'It is written, Man shall not live by bread alone, but by every word that proceeds from the mouth of God.'" Matthew 4:3-4
Note each time Satan tempted Jesus, the first thing Jesus said was, "It is written." He quoted Scripture. In the above example, Jesus was quoting Deuteronomy 8:3. Quoting Scripture is an extraordinarily effective weapon against demonic forces. But we must be cautious because Satan fully knows what Scripture says, which we see in Matthew 4:6 when he quotes from the book of Psalm. Here, Satan tried to turn the tables on Jesus, but, of course, Jesus was and is smarter.
We, too, can defend ourselves against temptation and other attacks by using Scripture. But we can't do that unless we know what it says. We don't have to recite chapter and verse, but we must at least know what it says. Through this training, we can do as Jesus did when He was a child in the temple.
We will be about the Father's business (Luke 2:49).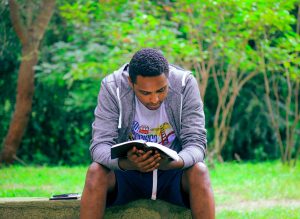 Time to Take a Stand
If we desire to detect and defeat the angel of light, we must humble ourselves and submit to God's authority. We put on the entire armor of God and grab our sword of Scripture so we can stand against anything Satan throws at us.
"Therefore, take up the whole armor of God that you may be able to withstand in the evil day, and having done all, to stand." Ephesians 6:13
May we all seek to know and speak Scripture when Satan attacks and proclaim God's authority over us as we submit to Him, recognizing His power and what He did for us because of His immense love for us.
Please follow and like us: