"It is not good that man should be alone. I will make for him a helper comparable to him."  Genesis 2:18 NKJV
We all know it takes hard work and patience to have a successful marriage. It's strange how that's not usually emphasized when people first get married. Even in pre-marital counseling there's more of a focus on children and finances than on the simple fact that living with someone for the rest of your life takes a lot of hard work, and lots and lots of patience. Not to mention forgiveness. How do we build that kind of lasting relationship that stands the test of time?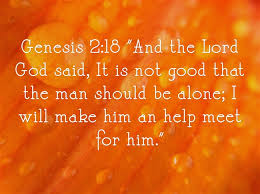 Last time we talked about one pillar of marriage, which is the importance of respecting your spouse and honoring him or her just as we honor Christ. Now let's talk about a second pillar: being a helper.
You probably heard it a bunch of times when you were a kid that you're supposed to help others, whether it be your sibling or someone else. When you were five years old you might have been playing with friends at their house and when it was time to go your mom said, "Help your friend put the toys away, honey." Or at home you were expected to set the table, vacuum, or clean the bathroom. Or maybe at school you were expected to help with cleaning up the classroom or the sports equipment. There are so many examples. But the point is that we were all taught to help others at an early age.
But here's the rub. Even still, not all of us do it! You can't make the excuse that your husband is just too "momma's boy" or that your wife is too much of a "princess". Those are easy cop-outs, and ones committed by them so they can be lazy. But did you know that laziness is a sin? Even after being taught so diligently to help others, we still find it hard to go beyond ourselves and be selfless.
Going back to our discussion about respect, a part of showing that respect is helping. So even if your guy is way beyond nice to you and has all the good manners he can muster, if he's not a helper to you then he's falling way short. (And if that's the case and you're single and reading this, please just drop him already and move on. You don't need an extra child in the house.)
But let me clarify. By being a helper I don't necessarily mean an extra hand around the house. Sure it's great to have someone to help with laundry, dishes, cutting grass, and fixing stuff. But I'm also talking about a spiritual helper. Someone you can depend to be your prayer partner and warrior in tough times.
In the Bible, right off the bat in Genesis 2:18 the Lord says, "It is not good that man should be alone. I will make for him a helper comparable to him."
You read that right. A helper comparable to him. That not only means that men and women are capable of the same things (no glass ceilings here), it also means that your husband is supposed to be as much of a helper to you as you are to him. If not, he (or you) could be in rebellion to the Lord because of laziness. Ecclesiastes 10:18 says,
"Because of laziness the building decays, and through idleness of hands the house leaks."
Your house, your marriage, will spring a proverbial leak and your house will decay if you or spouse decides to be lazy and not helping. I have to admit I've seen this in my own marriage. God cannot honor and bless laziness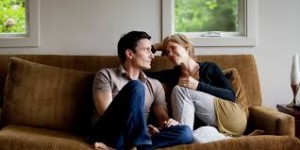 whether it's found in physical work or in spiritual work. Which brings up another good point.
The Lord tells us that we must bear one another's needs and be a friend. The apostle Paul writes in Colossians 3:13 that we are to be,
"…bearing one another, and forgiving one another if anyone has a complaint against another; even as Christ forgave you, so you also must do. But above all these things put on love, which is the bond of perfection. And let the peace of God rule in your hearts, to which also you were called in one body, and be thankful."
So, catch this. We are to support each other…in loving forgiveness….with the peace of God in our hearts…and be thankful for it. Even if we are prone to being lazy, we are still commanded to bear one another like it or not. Jesus himself came to Earth to be a helper as it says in Matthew 20:28, "For I did not come to be served, but to serve and to be a ransom for many."
We are all called to be helpers and servants.
Now, I understand that there are times of extenuating circumstances when you just don't have it in you to be the good helper because you're feeling stuck in a pit whether of depression, sadness, gloominess, bitterness, or just plain grumpiness. On these days you're looking for people to come to you instead of you painting on a happy face and being a light for Christ because you feel your light has gotten so miserably dim. It's quite understandable. And common. But do you know that's not what God wants for you?
God calls us to give out of our need and to be in community with others. Counselors and psychotherapists can only do so much. Getting involved and reaching out to others in need even when you're feeling stuck in a pit can do amazing wonders to help you get that footing, claw you're way out, and give you a purpose that goes beyond what you're going through. It will give you joy and renew your hope.
Need some simple examples? Help the elderly lady in the parking lot put her groceries in her car, or just return her shopping cart for her. Open a door for a few people a few times a day. Routinely let other drivers go in front of you in traffic. Volunteer at your church to be a door greeter or hold babies or pass out church bulletins. Volunteer at animal shelters, children's homes, soup kitchens, or charity events. Offer to watch your neighbor's house or pet when they travel.
But your first stop should be in your own home. Help tidy up without being asked, wash the dishes, take a turn reading and praying with the kids before bedtime. Then…if you haven't already… go to your spouse and join them in prayer by bringing Jesus into the center of it all. It is then that you will be giving as well as receiving.
Your marriage is a holy union of two souls and is a reflection of Christ and His church. Just as Jesus helps us in our time of need, so should we be also. With both our hands and our hearts. Praying together and bearing each other's burdens are essential parts of a solid marriage.
Remember that the Lord likes a cheerful giver. Be a giver of help to your spouse, whatever their need. Believe me, you'll both feel better.
Please follow and like us: