"They follow the Lamb wherever He goes." Revelation 14:4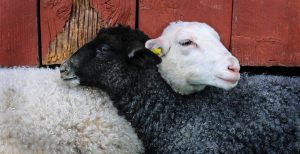 Even though I'm enjoying the warm summer months and spending time with my boys, I look forward to fall when the autumn festivals start popping up around our area. I love the corn maze, the fresh pressed apple cider, the barrel rolling, and getting up close to farm animals like pigs, turkeys, cows, and lambs. The lambs are so cute! You can pet them for as long as you like and get to know their gentle nature. It's one of the best things to do at the festivals in my opinion.
As children of God we're also supposed to be like lambs, and we have two essential jobs to do: to be more like Jesus every day and to bring Him glory in everything we do. In our quest for holiness, we refine our knowledge of God and mature our fruits of the Spirit while we strive to keep in mind that we are representing Jesus to everyone around us. In this way, we might consider ourselves to be like lambs or "lambs of God." But can we truly be "lambs of God" in today's world?
It's obvious that today's culture has skewed away from godly principles. The pull of sin has proven too much for some while outright blinding others completely. Nobody seems to understand why God might be worth the time and effort, much less that we need Him. Our selfishness and self-centered "me first" attitude has overtaken our collective American consciousness. We see it played out again and again on the television, movies, newspapers, and even in our workplaces, stores, and neighborhoods. These are challenging times to be a Christian.
Good Lambs or Dumb Sheep?
To make things more difficult, some people may consider Christians to not be good lambs but rather dumb sheep. Sheep are not known to be independent thinkers nor very intelligent. And because Jesus has called us His sheep, those who do not know Him don't understand what He means. It's why we may experience persecution or division with others. But that's also exactly why we need to stand up and show the world that we are indeed sheep. Proud sheep serving our Lord and Savior, Jesus Christ. And we are proud lambs. Lambs of the Most High God who is filled with all power and justice, amen.
In our walks of obedience and faithfulness, our outward lamb abilities and actions become examples of all that Jesus did while He was on this earth. We continue His journey of helping others, and sharing His love and the good news of the gospel despite the rejection of the world. We press on toward the mark of which we have been called with boldness and courage.
Second Timothy 1:7 tells us, "For God did not give us a spirit of fear, but of power, love, and self-control." He goes on to say in verses 8 and 9,
"Therefore do not be ashamed of the testimony of our Lord…who has saved us and called us with a holy calling, not according to our works, but according to His own purpose and grace which was given to us in Christ Jesus before time began."
We lambs have to be courageous and remember what a mighty God we serve. We can draw others to His grace beginning with the smallest of ways.
It may be difficult to be "lambs of God" in today's culture, but it's not entirely impossible. We are all called to be Christ's representatives in a fallen world, and we show it through our gentle words and actions.
No Need to be a Nervous Lamb
Maybe you sometimes feel scared or nervous to reach out to others. Maybe you just don't know what to do. Here are a few ideas that may help you in your desire to be more lamb-like for God.
Read. We can't share God's love and talk about His grace if we don't know much about it. It's like trying to teach someone about the War of 1812 without ever reading a history book. Decide to dig into God's word every day so you can learn about His character and His heart. When you put the Word in your heart you'll be much more effective when you talk to others.
Serve. Jesus demonstrated His desire that we serve others when He washed the disciples' feet. Helping others is an essential part of our Christian walk. You can serve in the church or go on a mission trip, but think outside the box. Where else can you plug in? Can you give your time and talent at your child's school? Can you help a neighbor move? Can you offer to head-up a car pool to work? Can you volunteer at your neighborhood's annual Christmas party, or offer to cook for the guys during your husband's weekly small group meeting? Can you be the Team Mom for a season? There are so many ways to help others outside of the church's walls if you just give it some thought.
Listen. A very simple way to reach out is to just be still and listen when someone needs a kind ear. Maybe you offer advice or maybe you don't. You might just nod your head and say you understand and that's it. So often we try to figure things out on our own when we don't have to. If we have someone who will listen and offer guidance (if that's what's needed), we build each other up and become stronger. Ask the Holy Spirit to lead you when you're asked to listen, and don't shy away. A few moments of your time goes a long way. A good follow-up hug helps too.
Acts of Kindness. We hear about acts of kindness a lot and the truth is that it really does make people happy. Who doesn't want to be happy? There are many simple things you can do to make someone's day like opening doors, saying hello, letting another driver go in front of you, carrying groceries, helping to pick up something that someone has dropped, and saying please and thank you, all with a big smile. Notice that none of these ideas requires any money or extra time on your part. They are just simple things that make others smile. Plus they're just good manners.
Invite. The ultimate thing you can do to be a lamb of God is to invite someone to church. It's easier said than done, I know. I've invited my neighbors several times and gotten nowhere. But I keep inviting, both them and others. Then I let God knock on their hearts and pray that one day they will open the door. Whether they ever come with me or not, I know it was a good thing to at least invite them. If I hadn't maybe they would never have even considered going to church at all. Christmas, Easter, and baptisms are good times to invite others. It's awfully hard to say no to a child's baptism.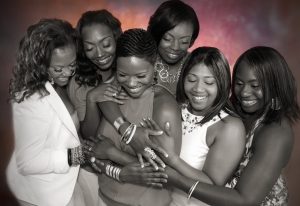 Violence, anger, selfishness and political rhetoric that we see and hear about don't have to keep you from being God's hands and feet. You might even consider that the world needs believers of Jesus Christ more than ever. We can be proud lambs of God each and every day when we find ways to help others beginning with the smallest of kind and gentle actions.
What can you do today to reach out and show love? Share your thoughts and ideas with us. Together we can make the world a better place.
Please follow and like us: