Enjoy these amazing Christian music artists coming to visit the Tampa Bay area. You can find more information about the artists, locations, and ticket purchasing at The Joy FM and Spirit FM 90.5.
Chris Tomlin Holy Roar Tour
Special guests Tauren Wells, Pat Barrett, Nicole Serrano, and Darren Whitehead
April 4-5, 2019 at 7:00 p.m., The Yuengling Center at the University of South Florida, 4202 E Fowler Ave., Tampa, FL 33620
April 6, 2019 at 7:00 p.m., Exactech Arena @ Stephen C. O'Connell Center at the University of Florida, 250 Gale Lemerand Dr., Gainesville, FL 32611
Purchase tickets at The Joy FM. (Not an affiliate link)
Hillsong United USA Tour 2019 with featured guests Amanda Lindsey Cook and Mack Brock
Saturday, May 11, 2019, at 7:30 p.m.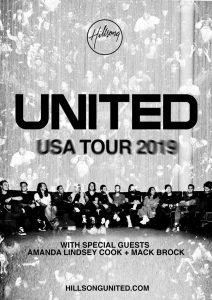 MidFlorida Credit Union Amphitheatre at the Florida State Fairgrounds, 802 U.S. 301, Tampa, FL 33610
Tickets start at $27.50. All floor seating is already sold out as of January 6, 2019. Purchase your tickets online here. (Not an affiliate link)
Everyone who purchases a ticket online will receive a free copy of Hillsong United's upcoming album. Approximately 24-48 hours after purchase, you will receive an additional email with album redemption instructions. Not valid for Fan to Fan resale or VIP Upgrades purchases.
To find more fun things to do around the Tampa Bay area, click here. 
Please follow and like us: