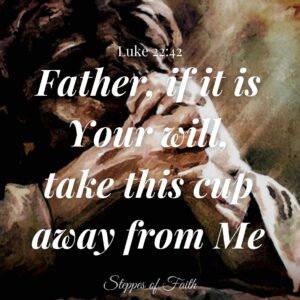 "Father, if it is Your will, take this cup away from Me." Luke 22:42
The Bible mentions a cup in eighteen out of its sixty-six books. Sometimes, it is simply a physical cup. Other times, it symbolizes something.
Fear:
"Behold, I have taken out of thine hand the cup of trembling." Isaiah 51:22
"Thou shalt be filled with drunkenness and sorrow, with the cup of astonishment and desolation, with the cup of thy sister Samaria." Ezekiel 23:33
Sorrow:
"And he saith unto them, Ye shall drink indeed of My cup, and be baptized with the baptism that I am baptized with." Matthew 20:23
"Neither shall men give them the cup of consolation to drink for their father or for their mother." Jeremiah 16:7
Joy: "Thou preparest a table before me in the presence of mine enemies: thou anointest my head with oil; my cup runneth over." Psalm 23:5
Salvation: "I will take the cup of salvation and call upon the name of the LORD." Psalm 116:13
Sin: "Ye cannot drink the cup of the Lord and the cup of devils." 1 Corinthians 10:21
God's cup has many meanings, but the number one symbol is wrath.
When Jesus prayed in the Garden of Gethsemane the night before His crucifixion, He asked the Father to "take this cup away from Me (Matthew 26:39; Mark 14:36; Luke 22:42)." Most people believe He is asking the Father to prevent the events that were about to happen. But Jesus was only asking the Father to prevent the suffering He was about to experience.
Jesus knew what was in the Father's cup, so He knew the suffering would be agonizing, and He was exceedingly fearful of it.
The Cup of Wrath
The Bible presents considerable evidence of God's wrath.
Psalm 11:6, "Upon the wicked he shall rain snares, fire and brimstone, and a horrible tempest: this shall be the portion of their cup."
Psalm 75:8, "For in the hand of the LORD there is a cup, and the wine is red; it is full of mixture, and he poureth out of the same: but the dregs thereof, all the wicked of the earth shall wring them out and drink them."
Isaiah 51:17, "Awake, awake, stand up, O Jerusalem, which hast drunk at the hand of the LORD the cup of his fury."
Jeremiah 25:15, "For thus saith the LORD God of Israel unto me; Take the wine cup of this fury at my hand, and cause all the nations, to whom I send thee, to drink it."
John 18:11, "Then said Jesus unto Peter, 'Put up thy sword into the sheath; the cup which My Father hath given Me, shall I not drink it?'"
Revelation 14:11, "The same shall drink of the wine of the wrath of God, which is poured out without mixture into the cup of His indignation."
Whenever someone mentions the Lord's cup, they most often are referring to God's wrath.
Jesus' Obedience
In Jesus' final moments, He pleads with the Father to take His cup of wrath away from Him. He intimately knows the depth and intensity of God's anger. Since the time of Noah's flood, God held back His fury over Israel's disobedience and insolence until it was time for Jesus to fulfill His divine duty. He was the only one able to quench God's anger indefinitely.
Such a duty does not imply any kind of conflict between the Father and His Son. Jesus was simply responding out of human emotion—incredible fear. Still, He fully understood what He had to do and that He was the only one who could do it. He was not seeking release from His obligation but to be spared from the suffering that accompanied it.
But then, unexpectedly, Jesus utters a word that changes the entire narrative: "nevertheless."
Jesus voluntarily surrendered His will to the Father, which was to "bear the sins of the many (Hebrews 9:28)." The fullness of the Father's anger would soon fall on Him (Isaiah 53:10-11; 2 Corinthians 5:21), yet He trusted the Father to work all things for good (Romans 8:28).
The book of Luke records Jesus' prayer as so earnest that His sweat became like "great drops of blood (22:44)." Most people believe Luke refers to a condition medically known as hematidrosis, where the capillaries dilate and, eventually, burst, allowing blood to pass through the sweat glands. It is a condition produced only when one undergoes intense emotional or physical stress.
However, Luke says Jesus' sweat became "like" drops of blood, not actual drops of blood. Luke uses a grammatical simile to draw a comparison, indicating that Jesus' anguish made Him sweat profusely. His prayer also caused Him great spiritual anguish, enough that an angel from heaven came to strengthen Him for the moments ahead (22:43).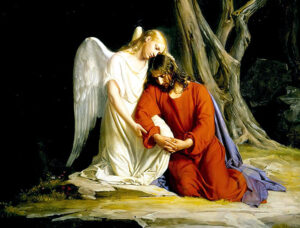 The Cup is Still Full
Though Jesus took the full pouring out of God's cup of wrath, God is still angry. But there is an important distinction between who He is angry with and who He is not.
We know there is only one thing God hates—sin. Understandably, He is angry with those who willfully engage in it, much like a parent and a disobedient child. This is called righteous anger, and God is full of it. He does not want us to reject and rebel against His rules, yet many people do.
On the other hand, those who accept Jesus as Lord and Savior have been made righteous before the Father thanks to Jesus' atoning sacrifice on the cross.
"Therefore, having been justified by faith, we have peace with God through our Lord Jesus Christ, through whom also we have access by faith into this grace in which we stand, and rejoice in hope of the glory of God." Romans 5:1-2
When we invite Jesus into our lives and decide to follow and obey Him, we have peace with God. He is no longer angry with us. He sees us as He sees His Son, Jesus, who acts as a filter between Him and us. When He looks at us, He only sees Jesus' righteousness covering us (Ephesians 2:13). This is excellent news for all believers.
[READ MORE: How Does God See Me in Christ? Got Questions]
Jesus' atoning sacrifice on the cross assures all believers of salvation and eternal life in heaven with God. However, those who reject Jesus' great act of love will have a very different outcome.
Pouring Out the Cup
The Bible tells us all unbelievers in Christ will drink God's cup of wrath one day. During the coming Tribulation, the antichrist will command everyone to take the mark of the beast (666) if they want to buy or sell any goods (Revelation 13:18). Those who take the mark will suffer a significant consequence.
"Then a third angel followed them, saying with a loud voice, 'If anyone worships the beast and his image and receives his mark on his forehead or on his hand, he himself shall also drink of the wine of the wrath of God, which is poured out full strength into the cup of His indignation. He shall be tormented with fire and brimstone [burning sulfur] in the presence of the holy angels and in the presence of the Lamb. And the smoke of their torment ascends forever and ever, and they have no rest day or night." Revelation 14:9-11 (my addition)
Those who reject Jesus and His offer of grace will suffer the outpouring of God's divine wrath in full force. His anger will not be impulsive but a steady, merciless, compassionless response to man's sin. Those who experience it will also experience eternal punishment in the lake of fire (hell), where there is no respite.
John's use of the word "torment" indicates there will never be a release from unbearable pain.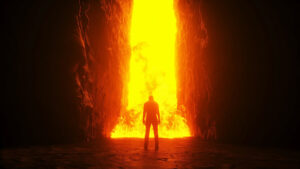 Hellish Conditions
In describing the eternal torment in hell, Jesus told the parable of the rich man and Lazarus in Luke 16. In this story, a wealthy man ignores a beggar named Lazarus after he comes asking for crumbs from the rich man's table. Both men eventually die, but only Lazarus goes to heaven ("Abraham's bosom," v22). The wealthy man goes to hell, where he cries out to God to rescue him.
"And being in torments in Hades, he lifted up his eyes and saw Abraham afar off and Lazarus in his bosom. Then he cried and said, 'Father Abraham, have mercy on me and send Lazarus that he may dip the tip of his finger in water and cool my tongue, for I am tormented in this flame.
'But Abraham said, 'Son, remember that in your lifetime you received your good things, and, likewise, Lazarus evil things. But now he is comforted, and you are tormented. And besides all this, between us and you, there is a great gulf fixed so that those who want to pass from here to you cannot, nor can those from there pass to us.'" Luke 16:23-26
Unspeakable torment and anguish await those who reject Jesus. They will endure an unquenchable flame as their conscience accuses them of missed opportunities to accept His gift of grace. They will suffer shame and contempt. Worst of all, they will suffer permanent separation from God with no hope of ever reconnecting with Him.
"And these will go away into everlasting punishment, but the righteous into eternal life." Matthew 25:46
Psalm 76:10 tells us even hell recognizes God's perfect justice. Rejecters of the gospel will fully understand their punishment and that they alone are to blame. Their torment is what the writer of Hebrews means when he says, "The LORD will judge His people. It is a fearful thing to fall into the hands of the living God (Hebrews 10:30-31)."
His Divine Invitation
Drinking God's cup of wrath is always a willful act. The result is excruciating pain and suffering. Jesus knew this as He prepared for His arrest and crucifixion. He knew taking the cup would cause exceedingly severe physical and spiritual agony.
Still, He said, "Nevertheless, not My will but Yours be done (Luke 22:42)."
We will never exactly know what Jesus endured. Whatever circumstances we experience, we can never compare it to Jesus' time in Gethsemane and, later, Golgotha. He willingly took the Father's cup and obeyed unto death. All He had to do was surrender and trust.
Similarly, God invites us to accept His gift of salvation and surrender to His will. He wants us to obey and trust Him every day in every area of our lives. Only then will He take His cup of wrath away from us. Only then can we avoid "everlasting punishment" and endless separation from Him.
By His grace, we can enjoy peace and eternal life with Him. We can intimately experience the fullness of His love and blessings just as He always intended.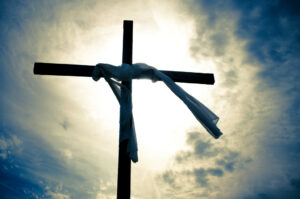 Please follow and like us: