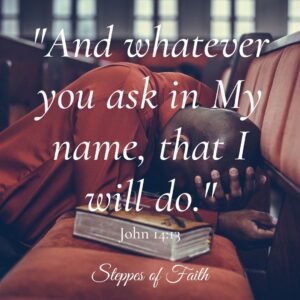 "Whatever you ask in my name, this I will do, that the Father may be glorified in the Son." John 14:13
I met the Lord when I was thirteen years old, and since that time, I have always ended my prayers with "in Jesus' name." It is what I was taught, even if I didn't fully understand it. A recent article challenged my practice of using this phrase, and it got me thinking.
Is this something we're supposed to do? Is it necessary? Or is saying "in Jesus' name" just religious speak? Does it affect how God regards our prayers?
Let's go straight to the source and explore what the Bible has to say about it.
How to Pray
Many people throughout time have used religious phrases and words during prayer not understanding why it's important or what it means. They simply copy what they've heard their pastors, priests, and ministers say. "In Jesus' name" seems to fall into this area. It seems like a nice little bow to finish off a well-crafted prayer we present to God.
Is it just a finishing phrase? Or, does it have a purpose? According to the Bible, yes, it does have a purpose. John 14:6 tells us,
"Jesus said to him, 'I am the way, the truth, and the life. No one comes to the Father except through Me."
Many of us know this famous portion of Scripture. We know we cannot access the throne of God except through prayer to Jesus. Which leads us to wonder what is the proper way to pray.
Jesus gave us the answer in His equally famous Lord's Prayer found in both Matthew 6:9-13 and Luke 11:1-4. You will notice Jesus ends this prayer abruptly. He never says, "In My name, amen." He just ends it. If this is the correct and general way of praying, does it mean we can finish what we have to say and be on our way? The answer is no.
Go back to John 14, but this time, read verses 13 and 14.
"And whatsoever you ask in My name, that I will do, that the Father may be glorified in the Son. If you ask anything in My name, I will do it."
Clearly, Jesus is telling us to pray in His name, that whatever we ask He will do. Why does He do it? So Father God will be glorified. But that doesn't mean Jesus is our puppet. We cannot expect Jesus to jump up and give us whatever we ask every time we pray. Saying "in Jesus' name" is no magic formula, and He is not a genie in a bottle.
Because of our unrighteousness, prayer is a privilege we do not deserve. And so, there are criteria to meet when we say, "In Jesus' name."
Have Pure Motives
Jesus is not the only one seeking to glorify the Father. Believers should also seek it, which means, when we pray, it is not what we want but what He wants. His glory comes first. The Bible reminds us of this in James 4:3. Our motives must be pure.
"When you ask, you do not receive because you ask with wrong motives, that you may spend what you get on your pleasures."
We can pray "in Jesus' name" all day long, but if our motives are selfish, God is not going to answer that prayer.
A few verses later, the apostle James goes on to quote Proverbs 3:34, "God resists the proud but gives grace to the humble." The motivation behind our prayers makes a difference. Our selfishness cannot ever supersede glorifying God first. If it does, we take advantage of God's grace and abuse His love.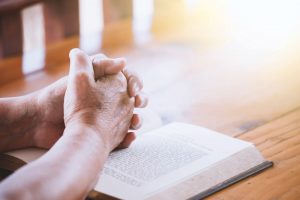 Pray for His Will
God will also not answer your prayers if it is outside His will for your life. Again, you can pray all you want "in Jesus' name," but if it is outside of His will for you, the answer will be no.
How do we know if what we are praying for is in His will? How do we do that? Proverbs 3:5-6 tells us,
"Trust in the Lord with all your heart and lean not on your own understanding. In all your ways, acknowledge Him, and He shall direct your paths."
King Solomon, the wisest man who ever lived, wrote this Proverb. Let's break it down.
Trust. Solomon is telling us first to trust God will all our heart. God does not need to prove Himself to us, but He does ask us to trust His love and faithfulness to us. Trusting can be difficult, but this is why we have faith.
"Now, faith is the substance of things hoped for, the evidence of things not seen." Hebrews 11:1
No Leaning. We are not to lean on our own understanding. We will never know nor have the capability to know everything God knows. His wisdom and knowledge are far beyond our own.
"For My thoughts are not your thoughts, neither are your ways My ways, declares the Lord. For as the heavens are higher than the earth, so are My ways higher than your ways and My thoughts than your thoughts." Isaiah 55:8-9
God knows more than us, and He knows better than us, which is another good reason to trust Him.
Acknowledge Him. When we pray, it is vitally important we acknowledge who God is. Though we fundamentally know who He is, we need to remind ourselves of His greatness, power, and sovereignty. He is God. There is no one greater or higher than Him. If we are going to trust Him, we must actively acknowledge this fact.
Trusting and acknowledging God's greatness and goodness results in Him directing our paths. If we can pray this way while asking "in Jesus' name," we are praying within His will, and He will plainly show us the way.
Pray with Your Whole Heart
We also pray within God's will when we pray with our whole heart.
"And you will seek Me and find Me when you search for Me with all your heart." Jeremiah 29:13
This Scripture ties in with Moses' command in Deuteronomy 6:5. In the Jewish faith, it's part of a foundational command called the Shema.
"You shall love the Lord your God with all your heart, with all your soul, with all your strength."
To seek God's will in our lives, we must seek Him with all our heart, with everything we have in us, and submit to it. If we earnestly seek Him and pray "in Jesus' name," God will respond to us.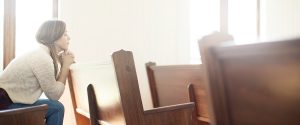 It is important to note that just because we seek His will when we pray does not mean we will get a positive result. Sometimes God says "no" or "not yet." Remember, His ways are higher than our ways. He knows what is best for us. He sees the path ahead of us, which means sometimes we will not get what we want.
Other times, God might say no because our motives are not pure. Even though He wants to say yes, He does not because we have asked out of selfishness. We have not fully trusted and acknowledged Him and His righteousness.
But for those times He says "yes," it is because we have asked in humility and sought His glory. We have asked with an upright heart.
"But let him ask in faith, with no doubting, for he who doubts is like a wave of the sea driven and tossed by the wind. For let not that man suppose that he will receive anything from the Lord; he is a double-minded man, unstable in all his ways." James 1:6-8
We are "in" Jesus
It is also important to remember when we say "in Jesus' name," we are invoking the use of the Lord's holy name. And, we are actively acknowledging His death and resurrection on our behalf. It is only because of His righteousness and atoning sacrificial death on the cross that we can pray "in Jesus' name." Pastor Don Whitney does a great job of explaining this more in this short video.
I also love what writer Aaron Barry said on Crosswalk.com about the meaning of "in Jesus' name."
"That preposition 'in' is a significant one. It speaks to our relationship to Christ. We are 'in' Him. We have been united to Him in His death, burial, and resurrection. And now, even our prayers are 'in' His name."
We are "in" Jesus. We are a part of Him, and He's a part of us. That unity, that bond, establishes a very special relationship, one that gives us the confidence and assurance we need to pray in Jesus' name knowing He will hear us.
"Now this is the confidence we have in Him, that if we ask anything according to His will, he hears us. And if we know He hears us, whatever we ask, we know we have the petitions that we have asked of Him." 1 John 5:14-15
John is telling us we can have confidence in approaching the throne of grace when we pray in accordance with what God wants for us and not what we would desire or insist He do.
Answered prayer always begins with obedience to God's commands and sincere avoidance of sin. Our focus, therefore, is always on putting God first, seeking His glory, and pursuing what He wants for our lives.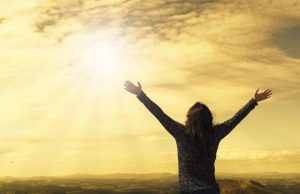 The Right Attitude
Though the Bible does not specifically command us to end our prayers with "in Jesus' name," Scripture does tell us the attitude and reverence we should have.
Have pure motives without selfishness.
Trust God and acknowledge who He is.
Pray with your whole heart, with humility.
Seek to glorify God and not yourself.
Acknowledge that you are "in" Christ because of His finished work on the cross.
Obey God's commands and put Him first.
If we pray with the right attitude toward God and an upright heart, in His righteousness, we can confidently approach Him with our requests knowing we are genuinely seeking His glory and His will in our lives. It is then we can assuredly say, "In Jesus' name."
Please follow and like us: