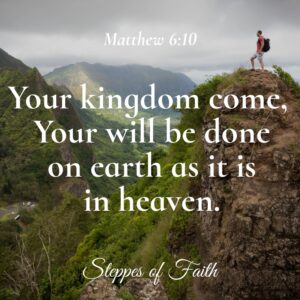 "Thy kingdom come. Thy will be done on earth as it is in heaven." Matthew 6:10
I recently learned an amazing Bible fact. Did you know the word "kingdom" is used 150 times in the New Testament? That's a lot! It was one of Jesus' top talking points during His earthly ministry, most notably in His many parables and in teaching repentance.
"From that time on, Jesus began to preach, 'Repent, for the kingdom of heaven has come near.'" Matthew 4:17
Something Jesus wanted us to know about the kingdom is that it's far more than a reference to heaven. It's also about power, value, authority, and dominion. God alone created the kingdom so He alone has the power to rule and have dominion over it.
To exercise and share that authority and power, Jesus invites us to bring the "kingdom come" in Matthew 6, which we call The Lord's Prayer. Most of us know it by heart so I won't repeat the whole prayer, but it's verse ten where Jesus says, "Thy kingdom come. Thy will be done on earth as it is in heaven."
For many scholars, asking God's kingdom to come points to Jesus' second coming to abolish sin and death and reclaim the earth from Satan. It's basically asking Jesus to hurry up and return.
But, other scholars suggest we are asking for God's ways to happen here on earth as they are fully obeyed in heaven. To put it more simply, we can influence others toward God's ways today, long before His return, simply through our Christ-like attitudes and interactions with the people we encounter every day. I think most of us can agree with that.
The question is how do we bring the kingdom come? What does that look like? As you probably suspect, the Bible gives us the answer. Here are five super easy ways you can bring His kingdom come to the people around you every day, anytime, anywhere.
Bear Good Fruit
The Bible mentions knowing someone by their fruit several times. The apostle Paul outlines what these fruits are in Galatians 5:22:
"But the fruit of the Spirit is love, joy, peace, patience, kindness, goodness, faithfulness, gentleness, and self-control."
People always take note of our fruit, so we want it to be good. Things like patience, honesty, self-control—they create respect from others and leave a lasting impression because they reflect God's character.
Having evidence of good fruit in our lives brings the kingdom to the earth in a very easy way. It takes almost no effort except for our obedience to what God already commands us to do.  So, don't hide your fruit. Show it proudly so others can experience God and His kingdom up close.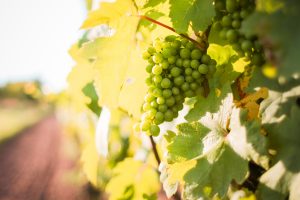 Sow Seeds of Good Fruit
As we bear good fruit, we also need to sow its seeds. Two of these important seeds are kindness and generosity. They're fantastic at bringing God's kingdom into our everyday lives. If we sow these seeds into every person we encounter throughout every day, the world would be a much nicer place, don't you agree?
We can show kindness and generosity by giving our time, talent, and/or treasure wherever possible and being the hands and feet of God. And, if we put these seeds together with a touch of humility, we can plant some amazing grace in the lives of others.
The trick here is to actively look for chances to be kind and generous then respond to it. Opportunities are all around us if we pay close attention. Take a look around you. With just a little effort, sowing seeds go a long way toward bringing God's kingdom.
Be a Courageous Storyteller
Sharing your testimony—your salvation story—is an amazing way to bring the kingdom come. But, it's not easy to share our story, is it?
Sharing our story exposes our past, shines a spotlight on our shame and brokenness. Yet, it's our story that describes why we need grace and how far God is willing to go to save us from the path of eternal destruction.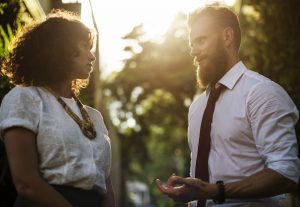 Our story also helps others to see they're not alone. That even though we're Christians, it doesn't mean we have it all together. No one is perfect, and no one is without sin (Romans 3:10). We all need a Savior, so much that we need Him every day.
I often feel that sharing my story is like riding a bike. It's a bit wobbly at first. I might even fall. But with practice, before I know it, I'll be riding it like a cyclist in the Tour de France if I keep at it.
Challenge yourself to be a courageous storyteller. Look for subtle opportunities to share your story and the Gospel truth so you can bring the kingdom to someone who's not only in need of it but is secretly looking for it.
Forgive
Forgiving others is probably the hardest way to bring the kingdom come. For some of us, forgiveness is not at all a simple thing to do. Feelings of pain and betrayal can close our hearts, poison our relationships, and prevent us from experiencing God's grace completely.
The truth is forgiveness is not a feeling. It's a decision you make. It's giving God permission to enter in and heal the situation, both you and the one who hurt you. But it starts with you bringing the kingdom first.
Forgiveness is a huge act of love, an enormous way to display the heart of God. Though it's not easy to do sometimes, God still commands us to do it.
"And be kind to one another, tenderhearted, forgiving one another even as God in Christ forgave you." Ephesians 4:32
"For if you forgive men their trespasses, your heavenly Father will also forgive you. But if you do not forgive men their trespasses, neither will your Father forgive your trespasses." Matthew 6:14-15
Notice that God does not tell us to forget. That's practically impossible. Only God is fully able to forget someone's sin.
"I, even I, am He who blots out your transgressions for My own sake, and I will not remember your sins." Isaiah 43:25
We may not be able to forget, but we can forgive because of God's grace toward us. If there is someone you need to forgive, pray and ask God for strength and courage. When you're ready, offer your forgiveness just as Jesus does for you every day.
Forgiveness is the number one way to break chains, provide freedom, and bring God's life-changing kingdom to beautifully restore broken lives and relationships. It takes time, no question, but try to believe me here. After a while, forgiveness can become quicker, easier, and more natural. Just trust the Lord to help you. He will, I promise.
Pray and Seek
If we were truly honest, we more often pray for God's kingdom to come into our own lives instead of someone else's. But, we can change that.
We can change our praying habits and seek the kingdom for others first. Imagine the breakthrough we'd see in our prayer lives! After a while, we might even become so consumed with praying for others that we forget to pray for ourselves.
I won't go into the vicious guilt cycle Satan throws at us to make sure we don't pray for ourselves, but I highly advise you not to fall into that trap. Forgetting to pray for yourself because you were too busy praying for others is never a bad thing and is never a sin. Instead, recognize the selflessness in your heart to make sure your loved ones are being called out before the throne of God.
"But seek the kingdom of God and all these [good things for your loved ones] will be added unto you." Luke 12:31 (my addition)
You've heard it said, and it's true…prayer changes everything. Your prayers could radically change someone's life toward everlasting communion with our heavenly Father.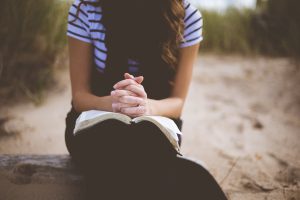 Accepting God's Kingdom Gift
Bringing God's kingdom into our daily lives is a powerful way to share God's grace and love with others. What's also important to remember is that it's a gift. In addition to grace, God also freely gives the gift of His kingdom to those who want it. Luke 12:32 says,
"Do not fear, little flock, for it is your Father's good pleasure to give you the kingdom."
The kingdom of God is a gift waiting for all of us. We only need to ask for it and share it with others.
So, don't be afraid. Sow your seeds, bear good fruit, forgive others, pray and seek, and tell your story. You just might change someone's life when you bring the kingdom come.
"We can do no great things, only small things with great love." Mother Theresa
Your Turn
Bringing the kingdom come can happen in so many different ways. How can you bring His kingdom to someone today? What are you doing already? Please share your ideas in the comments below. Let's encourage each other to get out there and bring the kingdom for the Lord's glory.
Further Reading (and Singing)
Jesus told many parables to illustrate the kingdom of God. The problem is that they're sometimes a bit difficult to understand. That's why I put together a series of articles to help you figure out what Jesus was trying to say. You can read Part One right here.
And, while you're here, enjoy this wonderful video from Jason Gray, "With Every Act of Love."
Please follow and like us: