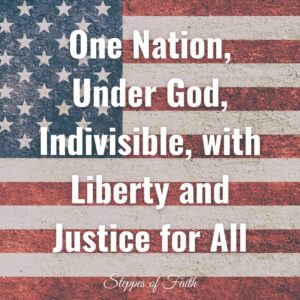 "One nation, under God, indivisible, with liberty and justice for all."
The United States has reached a pivotal moment in its history. This week, we all witnessed an insurrection by President Trump supporters in an attack on the U.S. Capitol while Congress was in session. People lost their lives, property was damaged, and faith in law enforcement and civility was shaken. We can draw comparisons to protests occurring last summer, but these particular folks have put a certain indelible mark on the country, unlike anything seen since the War of 1812.
How should a Christian react? What should be our proper response? Once again, we must turn to the Bible and find what Christ said about such things.
Give Love
By far, the most essential response to this week's unrest should be love.
No matter what happened, Jesus always displayed love first. Love is the very foundation of the Bible, and, indeed, everything God is. A proper response, then, to events like this week's (and many others around the world) is to show love—first to God and then to others.
"Jesus said to him, 'You shall love the LORD your God with all your heart, with all your soul, and with all your mind. This is the first and great commandment (see Deut. 6:5, my addition). And the second is like it: You shall love your neighbor as yourself. On these two commandments hang all the Law and the Prophets.'" Matthew 22:37-39
Jesus' Greatest Commandment to love God and love others is a moral duty for all Christians. Without it, we are unable to be fully Christ-like.
"And now abide faith, hope, love, these three; but the greatest of these is love." 1 Corinthians 13:13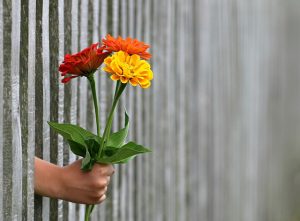 Extend Forgiveness
Many bad actors played a large part in the destructive events on Capitol Hill this week. As they waved the American flag, they attacked the very institutions and laws they swear they love. And in some cases, some took an oath to defend. It's tempting to see people arrested or injured and think, "Good, they got what they deserved." And maybe they did in a manner of speaking. But that type of reaction does not reflect the heart of a Christian.
Whether they were ignorant or consumed with passion, we must forgive just as Jesus did. Recall His response to the Roman guards and others who mocked Him as He hung on the cross.
"Father, forgive them, for they do not know what they do." Luke 23:34
Forgiveness might be difficult when we don't fully understand why everything happened the way it did this week. Many of us are still talking about it several days later, dissecting it and trying to wrap our brains around it all. And in that confusion, it seems hard to forgive what we don't understand. Yet, God tells us to forgive anyway.
Grace was extended to us freely through the atoning work Jesus did on the cross. If He who knew no sin can impart grace to us when we don't deserve it, shouldn't we also extend forgiveness as followers of the Gospel?
Don't Make Politics Your Idol
It's an unfortunate reality that some have made politics their idol and made their party of choice a manifestation of their faith. They claim they speak in truth, but there is no grace.  And so, passion reaches an extreme, and poor choices are made.
The Bible tells us we should not worship anything other than God. When we put politics ahead of serving the Lord, we are only serving our self-interest. Our pride disrupts our worship, and it clouds our judgment. Thus, we fall into sin. Still, some people believe they are acting in defense of the truth.
We cannot have grace without truth, or vice versa. And, we cannot have only truth or only grace. It's not one or the other.
We must always remember God is truth. All truth is within Him. And all grace is within Him. And so, we should always be working toward that same level of righteousness.
A very proper response is that we not put politics ahead of God. And don't make politics an example of your faith. Your faith should be in God and not someone in Washington D.C. God is sovereign. He alone is the one true God. He alone deserves worship, not your congressmen or women, not any laws or rules, and certainly not any world leader.
"I am the LORD your God…You shall have no other gods before Me." Exodus 20:2-3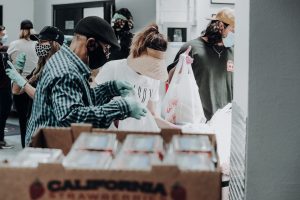 Serve Locally
In light of this week's events, many of us feel the need to do something tangible to inspire hope and positively influence others. So, what can we do?
If we genuinely want to impact society for Christ, we need to stop thinking nationally and focus more on becoming physically involved in our communities. Whether it's volunteering at a school or non-profit organization, writing to our local newspapers or state and federal representatives, or simply taking a plate of cookies to a new neighbor, having a Christian influence begins in our own communities. It's time for the church to be bold.
It should be noted that serving in our communities needs to be done with humility. People who obsess about receiving attention are never good leaders. This speaks to a whole range of folks. Jesus said if you want to be a good leader, you must first learn to serve just as He came to serve. Without a heart of service, no one prospers.
"But whoever desires to become great among you, let him be your servant. And whoever desires to be first among you, let him be your slave—just as the Son of Man did not come to be served, but to serve, and to give His life a ransom for many." Matthew 20:26-28
Perhaps you know of the Ripple Effect, sometimes called the Butterfly Effect. If you toss a stone into a body of water, its ripples will continue even as they travel away from the original spot where the stone went in. Our response, then, is we need to be the stone in the water using our time and talents to set examples of the Gospel to those around us. Being Christ-like is the best way to inspire and restore joy and hope even while the world seems to turn upside down.
The local level is where everything begins.
We will continue to see how events play out over the coming weeks as the United States moves from one administration to another. Whatever your politics, pray for our leaders, and seek to be examples of godliness and goodness in your communities. With more grace, love, and humility, the United States, as well as every other country in the world, can be transformed into beacons of hope. We can again be the shining city on a hill (Matthew 5:14).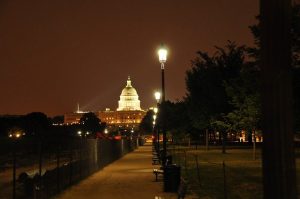 Please follow and like us: