"Now in the sixth month the angel Gabriel was sent by God to a city of Galilee named Nazareth to a virgin betrothed to a man whose name was Mary. And having come in, the angel said to her, 'Rejoice, highly favored one, the Lord is with you; blessed are you among women." Luke 1: 26-28 NKJ
I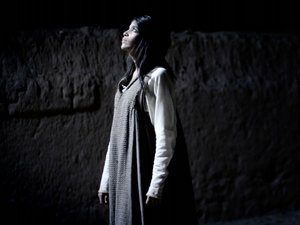 love reading the Christmas story no matter what time of year it is. It's such a beautiful story, don't you agree? The shepherds, the giant star, the wise men, all of it has such a sweetness to it. But here's something that we often overlook. None of it would have happened that way had it not been for Mary's obedience. The Christmas story as we know it would be very different had Mary not been "blessed". That's how she's revered and rightfully so.
But consider this. What if Mary had balked at the idea of being pregnant before marriage, of becoming an outcast in her community? I believe that God wouldn't let anyone stand in His way of sending His son, Jesus, to Earth so He likely would have chosen someone else. So a good question to ask is would the second girl have been any less blessed than Mary? What if you yourself had been chosen to be the mother of baby Jesus? Since you're not and neither am I, does that mean we're not blessed?
In some religions or points of view, it seems that Mary is somehow put on a higher plane than regular women like me. That she is somehow so extraordinary that she ought to be prayed to or through. That she is so incredibly blessed that she transcends other women. I find nothing in the Bible that supports this idea, and it bothers me because it puts Mary on almost on the same level as God Himself, which is just not true. No one compares to God (Exodus 15:11), and I feel that it diminishes the way God loves all women.
Yes, Mary was blessed, that's true. She was chosen to give birth to Jesus, our Lord and Savior. She must have been a pretty incredible girl no doubt, but in reality, she wasn't much different from you and me. She was just an ordinary girl living an ordinary life with her ordinary family in an ordinary town. I think all women can relate to that. Yet she was chosen for a special job. Okay, a super duper special job. But does it mean that she's more blessed than the rest of us?
We All Have a Special Job to Do
I don't want to take anything away from Mary. She had found favor with God after all.  But I believe that all women who follow the Lord and who are obedient are blessed. All of us is loved by the Father and we are all chosen to do a special job for Him. He's given each of us a skill or talent in which to perform our job just as it says in Romans 12:6,
"Having then gifts differing according to the grace that is given to us, let us use them." NKJ
So if each of us has a special gift and we are to use them in service to the Lord, then we know that each of us has a special job to which God has called us. Mary obviously had a certain gift that God desired to use.
What do you think your special job is? Are you a wife? A mom? A friend? Do you run your own business? Are you a teacher or a counselor? A CEO? Do you flip hamburgers or check groceries through a scanner? Are you good at creating art? How about solving puzzles? Are you super friendly and encouraging? Are you really good at staying organized while your kids run in ten different directions? The truth is that it doesn't matter what you do to earn a paycheck or what personal relationships you have because no matter what you do or what role you play God has called you to be in those places and positions so you can use your gifts for His glory. And when you say yes to using your gifts and you answer God's calling, you will be blessed. Which is what Mary did.
"Then Mary said, 'Behold the maidservant of the Lord! Let it be to me according to your word.'" Luke 1:38 NKJ
Here she was just doing her usual thing one day and then suddenly the angel Gabriel appears to her and says, in essence, "I have a job I need you to do." Mary didn't hem and haw about it. She just said, "Okay!"
Why she found favor with God isn't known. The Bible doesn't tell us. But I believe that you and I also find special favor with God when we are obedient to Him and faithful to keep His commands. God loves us all very much and one faithful woman isn't much different from another. We are all under the umbrella of His great love and He has a plan for each of our lives.
Again, I don't want to take anything away from Mary. None at all. But it's important to remember that all women (including you and me) are blessed. Our obedience and faithful responses to God's leading and His calling on our lives ensures His grace and blessing.
Remember How He Has Blessed You Already
Let's get this straight. Your blessing isn't dependent on doing work. Your blessing is only dependent on your faith in Christ. As you are faithful in using your gifts He brings reward and blessing. But when it's hard to figure out what your gift is or when your faith is struggling, that's when you have to take a look back and see where the fingerprints of God have touched your life. Psalm 103:2-5 says,
"Bless the Lord, O my soul, and forget not all His benefits: who forgives all your iniquities, who heals all your diseases, who redeems your life from destruction, who crowns you with lovingkindness and tender mercies, who satisfies your mouth with good things, so that your youth is renewed like the eagle's." NKJ
Did you or someone you love endure a lingering illness from which God healed you? Did you travel down some wayward paths during your college years only find Christ again and come home? Did He provide food and shelter to you and your family when you struggled to find a job? Or maybe He held off the severe thunderstorm until you just barely got the groceries inside the house after losing your house key? In every case, we need to take time to remember how God has provided for us and delivered us through difficult situations.
You might even take a moment and think about how He is taking care of you right now. Joshua 1:9 tells us that God is always with us. He is blessing us each and every day if we just take the time to notice it.
He Loves You Just As You Are
Being blessed is not some odd notion. It's real and our loving God gives it to everyone who is faithful to Him. You don't have to be extraordinary. He loves you just as you are.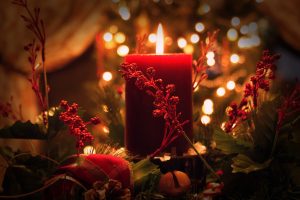 When Christmas comes around again I'll be marveling at the lights, the beautiful music, the peace of the season, and, as always, at Mary's unquestioning obedience and tenacity (it takes a pretty special woman willing to travel 90 miles by camel while nine months pregnant, right?). I will always consider her to be blessed. But I will also remind myself that I too am blessed, that God loves me with an amazing love, and He cares for me in ways that go beyond my wildest imagination.
The Lord has blessed me. He has blessed you too, and He's not done yet.
Please follow and like us: