Review: The Hiding Place by Corrie ten Boom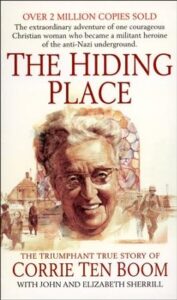 Many books have been written about the Holocaust from a first-person perspective. Such is The Hiding Place, written by Corrie ten Boom. First published in 1971, Ms. Ten Boom provides a compelling recollection of her family's bucolic lives before Nazi Germany invaded the Netherlands, the Nazis' slow takeover, the family's eventual capture and imprisonment, and Corrie's release on New Year's Day, 1945.
Ms. Ten Boom retells her experiences in such stunning detail that the reader feels like a fly on the wall watching it all happen. From the laughter around the dining room table to the sounds of sirens and distant screams during daily roll calls in Ravensbruck, Corrie's story transports us into her world. Through her eyes, she shows us life as a Christian living among frightened Jewish people and callous Nazi soldiers, threats of deportation occurring every moment, and how faith in the Lord can sustain us even in the most evil of circumstances.
Before the Nazi invasion of the Netherlands, the Ten Booms, led by the family patriarch, Casper, operated a successful watch-making shop in Haarlem. The family was well-respected and often sought for their horology skills. Bible readings and prayer were daily family occurrences, and their home was open to anyone who wanted to join them. Life in Haarlem was essentially happy and peaceful.
As time passed, death and heartbreak touched the family as Corrie's mother and aunts passed away, and dreams of marriage did not materialize. But nothing would compare to the events yet to come.
After the Nazis' invaded in May 1940, Corrie's brother, Willem, began his work in an underground operation to hide the Jewish people. It was a risky business. If a Nazi caught anyone hiding a Jew, one would experience arrest and possibly death.
But soon, Corrie, too, found herself involved in the operation based solely on her compassion for God's chosen people. Together as a family, they opened their doors to those running from the Nazis and hid them away. Food ration coupons were smuggled, and secret rooms were constructed while the watch shop continued operating under the Nazis' watchful eyes.
Eventually, the Nazis set a trap and arrested the Ten Booms. The events that happened next forever changed each family member's life, especially Corrie's. Here in The Hiding Place, she recalls each horrific moment. But she also heard the Lord speaking to her and her sister Betsie. Through a series of miracles and the establishment of a secret ministry within concentration camp walls, God continually reminded her of His enduring faithfulness.
The glory of God's love and Corrie's courage are immensely powerful throughout this unforgettable page-turner. Because of her extraordinary compassion and God's leadership, they were able to save hundreds of lives, both spiritually and physically, and her story continues to inspire thousands. After reading The Hiding Place, you will never see the enemy or Jewish people the same way again. This book will forever change your heart. You will truly learn what it means to love your enemy and how to magnify that love for God's kingdom.
I cannot recommend this book enough. Corrie's story will cause tears and joy, and you will once again be reminded of God's goodness and faithfulness like never before and in ways you will never forget. Put The Hiding Place on your reading list immediately!
Currently $7.29 (paperback) and $11.99 (hardcover) on Christianbook.com, August 2023.
Please follow and like us: