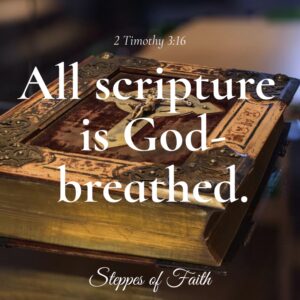 "All Scripture is God-breathed and is useful for teaching." 2 Timothy 3:16
When we think of the Old Testament, many might think it is irrelevant, outdated, or only for the Jews. We might even think it is just a bunch of stories of God's wrath and vengeance. Others might think we only need the New Testament because we operate under the covenant of grace as Christians.
The truth is both testaments talk about wrath and grace, and they are equally important to the Christian faith.
Indeed, the Old Testament lays out the foundation of Jewish beliefs and traditions, and it has many stories of God's anger. But if we look closer, it is also the foundation of the Christian faith. In it, we see God's story of redemption through His Son, Jesus, His great compassion and justice, and so much more.
If we are to understand fully who God is, it is vital to know and understand the Old Testament.
Big Testament, Big Lessons
The Old Testament makes up three-fourths of the entire Bible. Clearly, God is trying to teach us valuable lessons through the lives of Old Testament saints. They teach us about the importance of honesty (Jacob and Esau), patience (Joseph), righteous living (David), standing up for our faith (Daniel), proper marriage (Ruth), obedience during persecution (Gideon), honoring your spouse (Ruth and Boaz), and much more.
Probably the number one lesson of the Old Testament, though, is the importance of obedience to God and what happens when we are not. Great examples are the Israelites wandering in the wilderness for forty years, exile in Babylon for seventy years, and loss of favor, such as when King Saul (and many subsequent kings) all turned from God.
Lessons about disobedience are not limited to the Old Testament.
Loss of favor is highlighted in the gospels when Jesus pointed out the Pharisees' lack of faith and disobedience several times. He also predicted in Matthew 24:2 the destruction that would befall them because of it (which occurred in 70 A.D.).
Concerning the future, New Testament prophecy tells us that during the end times, those who disobey the Lord will face a bitter judgment before the Great White Throne (Revelation 20:11-15). Those who obey and follow Christ will enjoy an eternity of joy and peace.
In His word, page after page, God continually tries to teach us how to follow Him and the consequences when we do not. These Old Testament lessons give us a full, if not fuller, sense of God's love and justice.
God's Relationship to Humanity
We know the New Testament emphasizes God taking on flesh and becoming the perfect sacrifice for our sins. But it is also about God in the church, the Holy Spirit, and His relationship to humanity.
The Old Testament highlights this relationship, beginning with Israel and includes others, such as the Ninevites in the book of Jonah and the Egyptians under Joseph's command in Genesis. In every book and chapter, we see God's connection to us. We see His mighty power, fierce protection, and enduring faithfulness.
The Old Testament also overwhelmingly shows us God's compassion, grace, slowness to anger, abundant love and faithfulness, the forgiveness of wickedness, rebellion and sin, and exercise of justice (Exodus 34:6). Jesus represented and often spoke of these same attributes just as often as He talked about judgment and sin.
"He who has seen Me has seen the Father." John 14:9
Seeing these same lessons in both testaments helps us to understand and appreciate the complete view of who God is.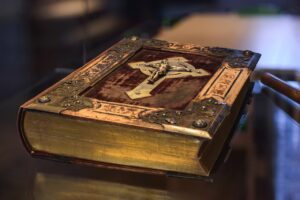 Jesus is the Old Testament
We do not need to look any further than Jesus to understand why reading and understanding the Old Testament is fundamental to our faith.
The New Testament begins by telling us Jesus is the Word of God that became flesh. He is the law, and He is the fulfillment of it. He affirms it in Matthew 5.
"Do not think that I came to destroy the Law of the Prophets. I did not come to destroy but to fulfill. For assuredly, I say to you, till heaven and earth pass away, one jot or one tittle will by no means pass from the law till all is fulfilled." Matthew 5:17-18
Jesus declared He was neither giving a new law nor modifying Old Testament Mosaic Law. Rather, He came to fulfill every part of it—moral, ceremonial, and judicial—through His divine authority. In Him is the complete revelation of God to man. Therefore, the New Testament does not replace the Old Testament. It simply clarifies and expounds upon it.
Jesus' fulfillment of the law confirms the complete inerrancy and absolute authority of the Old Testament as the Word of God. Therefore, the Old Testament carries as much weight as the New Testament. It is just as useful for teaching.
 "All Scripture is God-breathed and is useful for teaching, rebuking, correcting and training in righteousness, so that the servant of God may be thoroughly equipped for every good work." 2 Timothy 3:16-17
He is Our Hope
Believers know that Jesus is our living hope. But we cannot fully understand what this phrase means unless we read the Old Testament.
As author Sonya Downing stated at Christianity.com, "The New Testament tells us about the reason for our hope, but the Old Testament tells us what God did to give that hope to us." Everything in the Old Testament builds up to Jesus' amazing entry into the world and why He had to come.
Jesus fulfilled Old Testament law, confirmed its authority, and still embodies the reason for our hope. When we read the Old Testament, we learn more about who He is, why He took on flesh, sacrificially atoned for our sins, and rose again three days later.
Jesus Quoted It, a Lot!
We must remember that Jesus only had the Old Testament during His ministry to teach the disciples, entire crowds, and synagogue priests alike. He frequently referred to it to illustrate and reinforce His teachings. And He often quoted from it, especially when He was in difficult situations.
Jesus directly quoted from the book of Deuteronomy when Satan came to tempt Him in the wilderness.
In the first temptation, Jesus responded with Deuteronomy 8:3
In the second temptation: Deuteronomy 6:16
The third temptation: Deuteronomy 6:13-14
Even Satan quoted from the Psalms during this encounter.
"If You are the Son of God, throw Yourself down. For it is written: 'He shall give His angels charge over you,' and 'In their hands, they shall bear you up, lest you dash your foot against a stone." (Psalm 91:11-12).
Jesus also quoted from Psalms twice as He hung on the cross. "My God, My God, why have You forsaken Me?" in Matthew 27:46 is a direct quote from Psalm 22. He again quoted Psalm 31:5 when He said, "Father, into Your hands, I commit My spirit."
Jesus was not the only one quoting the Old Testament. The apostles also quoted it in their respective books in the New Testament.
"For who has known the mind of the LORD that he may instruct Him?" (Isaiah 40:13; 1 Corinthians 2:16)
"Therefore, He says, 'When He ascended on high, He led captivity captive and gave gifts to men." (Psalm 68:18; Ephesians 4:8)
"All flesh is grass, and all the glory of men as the flower of the grass. The grass withers, and its flower falls away, but the word of the LORD endures forever." (Isaiah 40:6-8; 1 Peter 1:24-25)
And the book of Hebrews is loaded with Old Testament scripture. The writer often placed multiple quotes in almost every chapter.
Such widespread use of Old Testament scripture in the New Testament emphasizes why we should be familiar with the Old Testament. It encourages and empowers us as we battle the enemy. It reminds us that God is sovereign. Plus, we gain a greater understanding and deeper context of New Testament teachings.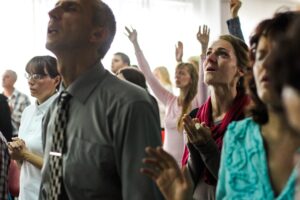 Praising God
Praising God often evokes thoughts of singing. But praise is not exhibited only in singing psalms. The entire Old Testament demonstrates it, from Abraham to the prophets.
Though most of their praise to God was spiritually joyful, Old Testament saints often praised Him amid unpleasant circumstances. Surprisingly, we find one example in the book of Job. Despite Satan's attacks and amazingly devastating losses, in the end, Job was still able to say, "I know that You can do everything and that no purpose of Yours can be withheld from You (Job 42:2)."
Another example is the author of Lamentations (largely believed to be the prophet Jeremiah), who offered praise even though it seems he personally witnessed the destruction of Jerusalem and the burning of the first temple in 586 B.C. Even during these heartbreaking moments, the author was still able to declare,
"Through the LORD's mercies, we are not consumed because His compassions fail not. They are new every morning. Great is Your faithfulness. 'The LORD is my portion,' says my soul, 'Therefore, I hope in Him!'" (Lamentations 3:22-24)
During good times or bad, people in the Old Testament offer us examples of praising the Lord and acknowledging Him as the Savior despite suffering hardship. In fact, they use their hardship as an opportunity to glorify God and recognize His majesty, power, and love.
Without the resilience of Old Testament saints and their examples of praise during trials, we would likely only praise God when we are happy, and we would miss out on what it means to "praise Him in the storm."
Old Testament Prophecy
The Old Testament details numerous prophecies, some of which have been fulfilled. This list is not by any means exhaustive.
Genesis 3: The birth of the Messiah, who will defeat Satan
Isaiah 9: Jesus the Messiah's birth
Zechariah 9: Jesus' Triumphal Entry
Psalm 22 and Isaiah 53- Jesus' death on a cross
Ezekiel 37: God would establish Israel as a sovereign nation
Genesis 12: God would bless all people through Abraham's descendants
2 Samuel 7: The kingdom of David would last forever
Some prophecies are yet to be fulfilled, however.
Daniel 7, 9, and 12- The antichrist and the coming tribulation
Zechariah 11: The antichrist's reign over the Jewish people
Zechariah 12: Jewish revival at the awakening to the truth that Jesus is the promised Messiah
Zechariah 14: The Day of the Lord
Ezekiel 38-39: The defeat of Gog and Magog
Joel 3: The Day of the Lord
Amos: God's blessings in the Millennial Kingdom for the faithful Jewish remnant during the tribulation
Old Testament prophecies help us see and believe that God keeps His promises, not just the ones that have already been fulfilled but also those to come.
So much of the Christian faith is rooted in Old Testament teachings. Its stories and historical accounts not only shape the New Testament but also provide rich examples of what it means to have righteous faith and why divine grace is necessary.
It is time for us to go back and read the Old Testament. Heeding its lessons are ultimately good for both us and the church.
Please follow and like us: