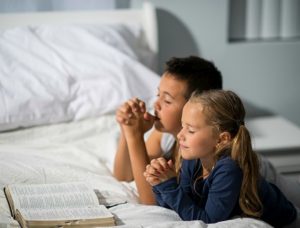 Since the first day of their lives, I pray with and over my three boys at bedtime. Prayer has become such a part of our routine that they ask me what's wrong if I decide to skip it on the nights I'm too exhausted to speak. As they're getting older, though, I've begun to let them pray on their own some nights. It's so beautiful to hear them praise our Heavenly Father and make their little petitions to Him. But I've noticed that my oldest son, my nine-year-old, often struggles with what to say.
Many people have tried to suggest ways to teach our children to pray, which is so wonderful. And needed. But prayer is not a one size fits all kind of thing. At least not with my boys. Instead, I'm trying to teach my son to just speak from his heart, but that seems too overwhelming to him still. So we've decided to take another look at what Jesus had to say about praying.
I'm almost positive that what my son is feeling is not much different from what the disciples were feeling and thinking even as they walked side by side with Jesus. Maybe you're feeling it too. What exactly are we supposed to say? Are there any requirements or certain elements in prayer that are necessary? Do we just hit the highlights of our day? Do we speak off the cuff or is there a pattern to follow?
The Lord's Prayer is spoken about in the Gospels of Matthew and Luke. In Matthew chapter 6, Jesus answers the disciples very clearly when they ask Him how they ought to pray. I encourage you read this chapter again because it's not just about what to say but also specific techniques like praying alone and not babbling away like pagans. When it comes to kids, I think, we can give them some slack on these points for now. So the focus for them is more on what to say.
Jesus' Four Points of Prayer
Both Matthew and Luke tell us of four things to include when we pray: praise, making requests, asking for forgiveness, and asking for strength.
Praise. "Our Father in Heaven, holy is your name. Your kingdom come, Your will be done on Earth just as it is done in Heaven." Luke 11:2 NKJ
Jesus tells us to first acknowledge the Father for who He is. God is the Creator of all things. He is majestic, glorious, righteous, just, mighty, faithful, and always good. Who can compare to Him? When we lift up the name of the Lord we put Him exactly where He belongs, a place of worship and praise. Because we were made to serve God and to proclaim His glory, we first have to acknowledge Him and His holiness.
Think about it. When we first talk to someone we often begin with a nice compliment like, "Gee, I love your hairstyle. It looks so nice!" or, "Wow, I really like your new jacket. You look good in it!" If we commonly begin our conversations with our friends and family with some kind of nice compliment, how much more does God deserve the same treatment? He is Lord of all. The least we can do is say so.
Make Your Requests. "Give us day by day our daily bread," Luke 11:3 (NKJ).
Let your children ask God for what they need. Your child's requests might range from actual bread to getting the latest video game app or a phone to play it on. I believe that God intended for us to ask mainly for our needs and not our wants. For kids, though, their wants tend to far outweigh needs. God understands that. He understands how our kids think. So when your son asks God for a new pack of Pokémon cards or your daughter asks for a new tea set, or either of them ask for a trip to Disney World, just let them ask. God's great love for our kids makes it all okay. What's really important is that we teach our kids the habit of daily praying and seeking God first whenever we need something.
Ask for Forgiveness. "And forgive us our sins just as we also have forgiven those who sin against us," Matthew 6:12 (NIV).
Even if your child is not yet of an age to understand the consequences of sin, it is a part of being a godly parent to teach them that we ought to ask for forgiveness so that when the day of accountability comes they'll be ready.
Matthew 6:12 and Luke 11:4 both state in the past tense that we have forgiven others. Kids don't automatically forgive when a play or classmate hurts their feelings (and some adults don't either for that matter). So when we pray with our kids, let's ask for strength to forgive others just as God forgives us. Jesus commanded us to do so a couple of verses later in Matthew 6:14 where He said,
"Forgive people when they sin against you. If you do, your Father who is in heaven will also forgive you. But if you do not forgive people their sins, your Father will not forgive your sins."
Forgiveness is a big deal. Most young children don't yet have the full ability to do it, the wanting to do it, or appreciate the freedom it brings. Let's teach them its importance, especially as it was made most evident at the cross.
Asking for Strength. "Keep us from falling into sin when we are tempted. Save us from the evil one," Matthew 6:13 (NIV).
Speaking of strength, we also need to ask for it so we do not fall into sin. Even kids are under Satan's attack (hard to believe, right?). Daily they are subjected to ads on the television or the latest "thing" that their friends have. And they march right up to you and ask, "Mom, can we get that?"
It's one thing to be tempted and quite another to give in to it. Being tempted is not a sin. It's when we give in that we mess up. If our kids want an extra piece of cake at a friend's birthday party simply because it looks so yummy, they have to have the strength to resist the temptation to eat it. If they take just one bite, then the deal has been done and they've sinned. It all basically comes down to self-control (or preventing a tummy ache).
Jesus told us that we'll never be able to resist sin on our own. We have to rely on His strength and grace so that we always make good choices. God promises to help us resist the evil strategies that Satan pulls on us if we just ask Him for it. Hallelujah!
More Praise. "For Yours is the kingdom and the power and the glory forever. Amen." Matthew 6:13 (NKJ)
There's nothing wrong with a good solid ending. Remind God again of His power and how amazing His is. Everything is His and He is worthy of more and more praise, don't you agree?
Just Talk to Him
Jesus loves to hear our kids pray. He wants them to come near to Him. He even had to inform His own disciples about it in Luke 18:16 when He said,
"Let the little children to come to Me, and do not forbid them, for the kingdom of God belongs to such as these."
Whatever works for you and your family, just go with it. It's more important that we are talking to God and seeking Him than following a formula. In other words, it's substance over style. As your kids create a habit of praying daily and putting God first with their needs, they will be better equipped to handle the struggles of life as they grow.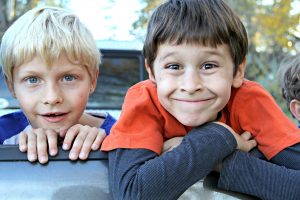 Prayer is the most powerful weapon we have against the enemy. Let's prepare our kids- and ourselves- for battle however we can.
How have you taught your children to pray? What techniques do you use that work? Share your story of how you're raising your kids for Christ. I'd love to hear from you!
For more perspective on the Lord's Prayer, click here.  
Please follow and like us: