by Gina Gardner, Steppes of Faith
"For when we were still without strength, in due time, Christ died for the ungodly." Romans 5:6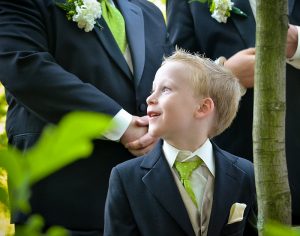 Old-fashioned manners seem to have gone by the wayside over the years. Nobody likes to be polite anymore. I don't know about you, but, as a mom of three boys, that bothers me. So I tacked up a printout for my boys that describes lots of different ways they can grow up to be gentlemen rooted in the Lord.
One of my boys was looking it over recently. He called to me and asked, "Mom, what does it mean to not hang out with the ungodly?" I walked over to see which suggestion he was reading and, sure enough, that's what it said: "Don't hang out with the ungodly."
I started to tell my son that, as Christians, we shouldn't be friends with people who don't love Jesus. But as the words were coming out of my mouth, I realized how odd that sounded. In the middle of my thought, my son's twin interrupted me with, "Wait, does that mean I can't be friends with Rafael anymore?!"
The look of worry on his face broke my heart. I felt like I had to backpedal and explain more about what that suggestion meant. But then I realized that I didn't know where in the Bible it says to not hang out with the ungodly. I intuitively knew that we are not to be "unequally yoked" and that we need to make good decisions about what kinds of activities we engage in, but where did it say to steer clear of non-Christians?
And then I thought that's just crazy. How else are we to spread the Gospel if we don't interact with the ungodly? Even Jesus ate with the Pharisees and tax collectors. It just didn't make sense to me, and I still had to explain it all to my boys. So I turned to some friends for help.
Caution About Hanging Out with the Ungodly
I belong to several wonderful Facebook groups dedicated to Christian principles. Some are professional, and some are social. A lovely lady named Denise runs one of these groups. It's called Hope-In-Christ. I highly recommend it. Everyone there is so warm and welcoming. I just love it. So, naturally, I asked them about whether or not we can hang with the ungodly. Through some back-and-forth messaging, we found several mentions of caution in the Bible, and one powerful offer of hope.
Caution #1: Psalm 1:1
"Blessed is the man who walks not in the counsel of the ungodly, nor stands in the path of sinners, nor sits in the seat of the scornful, but his delight is in the law of the Lord."
Being blessed is the ultimate goal in our walk with Jesus. It's where we experience the deepest kind of joy that He offers us. If you've ever had joy in your life, then you understand how fleeting it can be when someone says or does something hurtful, even if it's unintentional. We have to be careful to guard our joy in the Lord, and that means choosing your company carefully.
Notice that Psalm 1:1 cautions us right off the bat to be careful of whom we choose to hang around because ungodly people can easily drag down the joy we've found. If you don't walk or stand or sit with the ungodly, then you won't be thrown off your spiritual walk.
Caution #2: 1 Corinthians 15:33
"Evil company ruins good habits."
This is a verse I wrote on a 3×5 card and taped to my oldest son's bedroom wall when he first started to read. It's a daily reminder to choose our friends carefully. Too many good kids (and adults) have made friends with people they thought would be similar in values to them only to find that these kids soon aren't all they claim to be. Or, perhaps more often, kids become friends with the "bad" kids at school either to find acceptance or to rebel against their parents. Regardless of the situation, it's important for kids to understand the consequences of making the wrong sorts of friends.
As Christian parents trying to raise godly kids, it's imperative that we impress on them the importance of keeping good company, not evil company. We need to teach them to choose their friends wisely and understand what can happen when they choose to hang out with the wrong kind of crowd.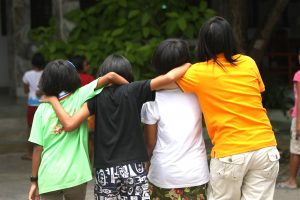 Caution #3: Ephesians 4:17-18, 22-24
"This I say, therefore, and testify in the Lord, that you should no longer walk as the rest of the Gentiles walk, in the futility of their mind, having their understanding darkened, being alienated from the life of God because of the ignorance that is in them, because of the blindness of their heart…Put off, concerning your former conduct, the old man which grows corrupt according to the deceitful lusts, and be renewed in the spirit of your mind, and that you put on the new man which was created according to God, in true righteousness and holiness."
When we invite God into our hearts, we can no longer do the same things we used to do, especially among non-believers. This is what is meant by putting off the old man. Much like Caution #2, we are advised by Paul here to avoid evil company even more and make new, better choices. We should be daily renewing our minds and striving to become righteous and holy in God's sight, or else we risk having our faith darkened and making our hearts blind to what God desires to do in and through us. Hanging out with the ungodly could jeopardize everything we're trying so hard to accomplish in our Christian walk.
Your Turn
How do you handle spending time with people who don't know God? Do they sometimes cause you to drift in your daily walk with the Lord? How can we handle these situations more wisely so we stay on track? Share your comments here. Let's help each other figure out better ways to choose the company we keep.
And come back next week for Part 2! We'll talk about two other words of caution from God plus offer an encouraging, powerful hope both for you and the people in your life.
Further Reading
Click here to download your free copy of 24 Ways to be a Gentleman.
Please follow and like us: