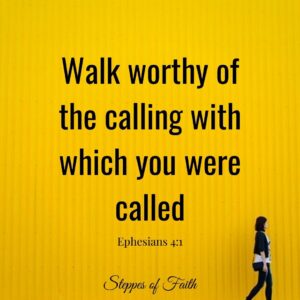 "Walk worthy of the calling with which you were called." Ephesians 4:1
Many people commonly ask themselves, "What is my calling?" or "What is my purpose in life?" We ponder and search, trying to figure out what we are supposed to be doing and why we are here on this earth. Sometimes, we figure it out, but many do not. And, before we know it, our life slowly comes to a close, and we feel unfulfilled. We feel like we wasted our life not knowing what our calling ever was.
Like all things, God already knows our calling, and it is not a great mystery. All we must do is go to the New Testament.
The apostle Paul wrote extensively about God's calling for you.
"I, therefore, the prisoner of the Lord, beseech you to walk worthy of the calling with which you were called." Ephesians 4:1
"There is one body and one Spirit, just as you were called in one hope of your calling." Ephesians 4:4
"Therefore, we also pray always for you that our God would count you worthy of this calling and fulfill all the good pleasure of His goodness and the work of faith with power." 2 Thessalonians 1:11
According to Paul, we are to walk worthy of our calling. But what might that be?
You Can't Save Yourself
We often assume our calling refers to what we do with our time, whether exercising a talent or pursuing a preferred career, but this is not what Paul is talking about. Our calling is not about our dream job, being a good parent, or finally sailing around the world. Everyone's calling is the same thing, and it is very simple.
Our calling is simply God's powerful beckoning to salvation in Christ Jesus.
The Bible states multiple times that we cannot save ourselves from sin and death. Only Jesus satisfied the penalty we owed when He died on the cross, which means grace is found only in Him. Our hope for heaven and eternal life comes only from believing in faith that He is the promised Messiah.
But we cannot receive grace by our performance, as many wrongly believe. We cannot obtain His forgiveness by the works of our hands or by trying to be good. Jesus, Himself, told us no one is good enough.
"Why do you call Me good? No one is good but One, that is, God." Luke 18:19
Grace is found only through faith in Jesus, which is what Paul reminded his protégé, Timothy, about as Timothy was about to assume Paul's ministry.
"[Jesus} Who has saved us and called us with a holy calling, not according to our works, but according to His own purpose and grace which was given to us in Christ Jesus before time began." 2 Timothy 1:9 (my addition)
Paul again reminds us of salvation by grace alone in Ephesians 3.
"For by grace you have been saved through faith, and that not of yourselves; it is the gift of God, not of works, lest anyone should boast." Ephesians 2:8
Works are Not Your Calling
Salvation should never be confused with the apostle James' instruction to perform works by faith.
"What does it profit, my brethren, if someone says he has faith but does not have works? Thus, also faith by itself, if it does not have works, is dead." James 2:14,17
James teaches that our works come from a heart of compassion. We work because our hearts long to help others, and it comes as a result of our faith. It is never a requirement for salvation but a manifestation of it.
Our calling is always about responding to God's invitation to receive His grace and never by our works.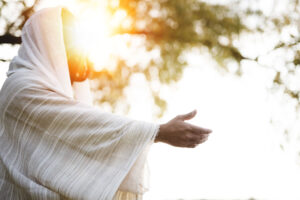 Calling the Humble
God's calling is for everyone. And though it is a subject of debate, the truth is not everyone will answer it.
It is absolutely not because God withholds His grace. He always grants it freely. The reason not everyone receives salvation is that some choose not to respond to their calling. They know about the gospel and maybe even go to church, but they reject it. This is why God tells us all are called, but only some will respond to it (Matthew 20:28). These people are the ones the Bible refers to as the "elect."
[READ MORE: What is God's Will for Your Life?]
Paul talks about the elect in his first letter to the Corinthian church.
"For you see your calling, brethren, that not many wise according to the flesh, not many mighty, not many noble, are called." 1 Corinthians 1:26
Paul is talking about people others might consider wise, mighty, and noble. God invites them to receive salvation, but their pride gets in the way. They believe they can achieve heaven by their own strength and intellect.
But the Bible tells us only the humble receive true salvation (Matthew 11:25; 18:3-4). They are the ones who fulfill their calling.
The Hope of God's Calling
Paul writes to the Ephesian church that he always prays that God would give them "the spirit of wisdom and revelation in the knowledge of Him (Ephesians 1:17)." But he also states that he prays God would open the "eyes of their understanding."
"[That] the eyes of your understanding, being enlightened, that you may know what is the hope of His calling, what are the riches of the glory of His inheritance in the saints." Ephesians 1:18
Paul prays that God would give them godly knowledge and insight so they can fully comprehend the greatness of our hope in Christ and the inheritance we will receive. He continues in his letter that he prays for their spiritual enlightenment.
Being spiritually enlightened through the power of the Holy Spirit allows us to truly understand and appreciate our inheritance in Christ and of living obediently to Him. It allows us to grasp better our calling and the hope we have in it, which is eternal life.
Our Great High Priest
Those who respond to God's invitation to salvation, who answer the calling on their lives, look forward to heaven and eternal life with our Lord and Savior. The writer of Hebrews understood this, and so he asks us to consider Jesus and what He has done for us.
"Therefore, holy brethren, partakers of the heavenly calling, consider the Apostle and High Priest of our confession, Christ Jesus, who was faithful to Him who appointed Him." Hebrews 3:1-2
Jesus is the center of our confession of faith. He is our great High Priest, making intercession for us before the Father. The writer of Hebrews speaks extensively about it throughout the book. He repeatedly encourages us to hold onto our confession as he exhaustively explains why. His point is we respond and reaffirm the calling in our lives when we confess and profess Christ as the promised Messiah.
"Seeing then that we have a great High Priest who has passed through the heavens, Jesus the Son of God, let us hold fast our confession." (4:14)
"And having been perfected, He became the author of eternal salvation to all who obey Him (i.e., respond to their calling), called by God as High Priest according to the order of Melchizedek." (5:9-10, my addition)
"For such a High Priest was fitting for us, who is holy, harmless, undefiled, separate from sinners, and has become higher than the heavens." (7:26)
"We have such a High Priest, who is seated at the right hand of the throne of the Majesty in the heavens." (8:1)
"But Christ came as High Priest of the good things to come." (9:11)
"And having a High Priest over the house of God, let us draw near with a true heart in full assurance of faith, having our hearts sprinkled from an evil conscience and our bodies washed with pure water." (10:19-22)
We have so many reasons to respond to God's calling in Christ. He offers us grace, eternal life, the hope of heaven, and so much more.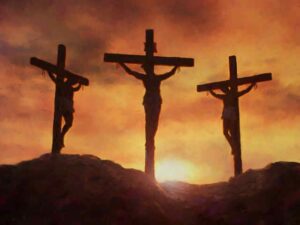 More Good News
Answering our calling means it cannot change, and no one can take it away. The Bible tells us our salvation is forever secured when we respond to His grace.
"For the gifts and the calling of God are irrevocable." Romans 11:29
"And I give them eternal life, and they shall never perish; neither shall anyone snatch them out of My hand." John 10:28
This is a crucial, significant, and precious promise! Nothing you do can ever cancel your salvation. Once you respond to His call, your hope of seeing heaven is as good as done.
But we must respond to Him.
A particular preacher once said, "Your calling isn't what you do; it's what you become." He did not mean that we become a great missionary or solve homelessness and global famine. It is not about becoming a notable figure in history, your church, or your community. The only thing God wants you to become is His obedient child who is devoted to serving others no matter where you are.
Your calling is never about what you do in your own strength. It is always about putting your faith in a holy God, who loves you enough to die for you, and then walking daily in obedience to Him through your kindness, patience, gentleness, generosity, and, above all, love.
Will you respond to your calling today?
Please follow and like us: