by Gina Gardner, Steppes of Faith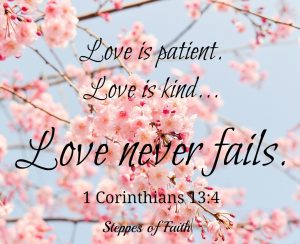 "Love is patient. Love is kind. It does not envy. It does not boast and is not proud. It is not rude and does not look out for its own interests. It does not become easily angry and thinks no evil. It does not rejoice in iniquity but rejoices in the truth. It always protects. It always trusts. It always hopes. It never gives up. Love never fails." NIV
It's hard to believe that it's already the end of 2016. The Christmas gifts have all been unwrapped, the kids are getting bored, and the grownups are taking a look back over all we saw and experienced this year. We evaluate our accomplishments and we begin to make our plans for the upcoming year by setting goals or making resolutions. Some want to get more exercise, pay off debt, get organized, or turn over a new leaf entirely. Those who are in Christ might also resolve to show more grace or thankfulness or kindness. Knowing what's in store for our country and my family, I'm choosing to be more patient in 2017 and here are four areas that I'm planning to focus on.
1. Patience with Politics
No matter who you voted for in the recent presidential election, I think it's safe to say that our country will be going through a huge transformation in 2017. New ideas and strategies will take our way of life in a whole new global direction. And, no doubt, new scandals will fill the newspapers and flood the nightly newscasts. Every time the White House changes occupants, there's always a sense of trepidation.
We have to remember that God is always in control no matter who is leading the country. God is bigger than every earthly authority because, as Romans 13:1 tells us, "For there is no authority except from God, and the authorities that exist are appointed by God."
God is sovereign and works all things for goodness and justice. If we can remember that, it will be easier to be patient while our country goes through the unavoidable political changes.
2. Patience in Parenting
Closer to home, as a parent of three growing boys, I often find myself in tremendous need of patience every day. I'm incredibly outnumbered with all the testosterone around here. It's a constant battle to instill kindness, compassion, and generosity in my little cavemen. Yet I know that as they grow and mature the battle will get easier and their hearts will slowly become more fertile ground for being God's light in a dark world.
In the meantime, I've learned to lean on God on the days when I just can't take another wild wrestling match in the middle of the living room or the slamming of doors while they play a version of hide-and-seek called Manhunt. I call out for His grace when yet another cup of milk spills across the kitchen floor and the toilet is again left unflushed despite my repeated lessons about it. It is only with His strength and grace I can have the patience I need to speak softly and respond with grace while keeping the boys rooted in the Lord.
I'm reminded of a quote from Elisabeth Elliot, a renowned Christian author and missionary, who said, "Suffering creates the possibility of growth in holiness, but only to those who, by letting all else go, are open to the training. Not by arguing with the Lord about what they did or did not do to deserve punishment, but by praying, 'Lord, show me what you have for me in this.'"
Let's be absolutely clear that I'm not suggesting that being a parent is a form of suffering or punishment. No, no, not one bit! Quite the opposite, actually. Being a mom is highly rewarding and beautiful, but let's be honest and admit that it gets really hard some days. But if we can stay open to the training that God has for us parents, if we can truly ask God what He has for us so that we can mature in our faith in a way that spills over to our children, then only blessings will come. One of those blessings is patience.
3. Patience in Marriage
My husband is a godly man. He seeks the Lord more and more every day. It's been wonderful watching his faith and trust in God grow. As we all know from the book of Job and from Jesus' warnings, though, even those of us who seek after God continually are going to endure struggles. My hubby is no exception. It seems the more he digs into the Word and goes after God's heart, the more misfortune he's had. His business is fading away and his ideas for a new vocation go by the wayside while he waits for God's guidance. He's doing his best to be patience and wait for God, but in the meantime, there is the worry of properly caring for his family. My heart hurts for him.
There isn't much I can do for him except love and support him at all times, offer words of encouragement, and pray for him. Prayer is powerful, without question. But when the bills come in, the words of encouragement tend to lose their luster. For a man, it's a tough spot to be in and hope begins to fade. Which is why God made sure he has me. The story of Adam and Eve illustrates why a man needs a patient wife.
Eve was created from Adam to be a helpmate, a friend, someone he could depend on even on the difficult days. From eating the apple to the tragic murder of their son, Abel, by their other son, Cain, Adam had to lean on Eve for love and support. Indeed, all women are called to patiently support their husbands just as the Bible says in 1 Corinthians 11:7-8 & 12,
"Woman is the glory of man. For man is not from woman, but woman from man. Nor was man created for the woman, but woman for the man…For as woman came after man, even so man also comes through woman; but all things are from God." NKJV
A wife needs to help her husband in every way she can. This should never be burdensome, but rather an act of love. And I love my husband very, very much. It's my pleasure and honor to help him as long as he accepts it. The coming year is going to be difficult for him and it's going to take patience on both our parts as he makes the transition to a new career. Whatever God has in store for him, I'll be there the whole way following along.
And speaking of careers…
4. Patience with My Career
Since I started Steppes of Faith about a year ago, it's been a journey of the heart to share the Gospel with whoever will listen. I have always felt called to minister and encourage others in the Lord. In 2017, I believe it may be time to step up my game if it's the Lord's will. It will be time to learn new skills and get better organized as I try to take my ministry to a new level, hopefully one that will provide a source of income for my family. It's going to take a lot of education, though.
Going back to school, so to speak, doesn't come easy as we age. As much as we want to learn more, sometimes it's just not easy to sit for long periods of time and try to wrap our brains around new information. Some of it can be soaked up without batting an eye and some we have to slog through. But with lots of patience and perseverance from the Lord, and hopefully your prayers, I know I can do it.
Love is Patient
No matter in which area I need to be more patient, it's necessary that it's all based on love, specifically God's love. None of it will matter if I don't have love. First Corinthians is rich in its lessons about love and it's all in chapter 13. Paul begins immediately in verse one,
"Though I speak with the tongues of men and of angels, but have not love, I have become a sounding brass or a clanging cymbal. And though I have the gift of prophecy and understand all mysteries and all knowledge, and though I have all faith so that I could remove mountains but have not love, I am nothing. And though I bestow all my goods to feed the poor, and though I give my body to be burned but have not love, it profits me nothing." NKJV
If we don't have love, none of whatever we may do matters at all. If we try our absolute best to be kind, generous, compassionate, and loving, it doesn't matter if we don't have love in our hearts. It just doesn't count. Real love is reflected in our attitudes toward such things. Which is why Paul goes on to specifically define what love is in verse four. You've probably heard it at a few weddings-
"Love is patient. Love is kind. It does not envy. It does not boast and is not proud. It is not rude and does not look out for its own interests. It does not become easily angry and thinks no evil. It does not rejoice in iniquity but rejoices in the truth. It always protects. It always trusts. It always hopes. It never gives up. Love never fails." NIV
Notice the first thing Paul mentions is patience. It's something we have to have in order to love well. And we need love to be patient. In other words, when we have love, we are better equipped to do the good work of God. That sounds like a good thing to hold onto as we head into the new year.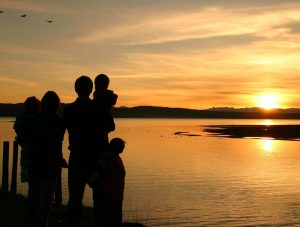 Looking Forward
I don't know what the coming year may hold for us, from politics to kids to getting my weight down, but in my little corner, I can see that I'm going to need more and better patience to get through it. And I think my family and I will be a lot better for it. How wonderful it would be if more people had more patience with each other, wouldn't you agree? What a wonderful world it would be.
Happy New Years! May the Lord richly bless you in 2017.
Your Turn
What are your goals for the next twelve months? Do any of them include building your faith and loving better?  Come share your plans for 2017 with us. And don't forget that we're always here to pray with you.
Further Reading
Showing more gratefulness is another great goal for the new year, one that I'm planning to work on right away. There is so much to be thankful for, don't you agree? You can read more about it in this great article from DaySpring Cards right here.
Please follow and like us: