By Gina Gardner, Steppes of Faith
Note to Readers: I have not been paid or given any compensation for endorsing Dave Ramsey's Financial Peace University. My opinion is my own and is based entirely on its amazing success that many people have personally experienced, including right in my own church. I am also not affiliated with Christianbook, but I am affiliated with Amazon, which means if you purchase anything through this website, I will receive a small payment for it that helps support this ministry.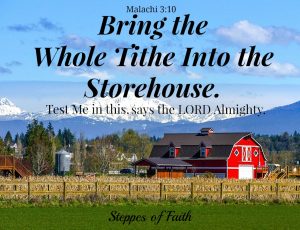 "'Bring all the tithes into the storehouse, that there may be food in My house." Malachi 3:10 NKJ
You hear it every Sunday, the call for tithes and offerings to the church. The ushers come forward, the pastor or minister asks everyone to bow their heads and pray, then the plate or bucket gets passed around. Have you ever at this moment wondered things like:
What exactly are tithes and offerings?
What's the difference?
Is it required?
Do I have to give to the church or is it okay to give to my favorite charity?
The simple answer is yes and no. Since that doesn't tell you much, let's take a closer look at what the difference is between tithes and offerings and what God says about them.
Why Do We Tithe?
The setting aside of the first part of something is called tithing. It began in the book of Exodus.
Dedicating your first-born child, particularly if it's a male, dates to when Pharaoh was resisting letting the Israelites go free. If you recall, the Lord commanded ten plagues to afflict every house in Egypt. It was the tenth and last plague that God used to kill every firstborn offspring, whether Egyptian, Israelite, or even livestock. That's when Pharaoh let God's people go.
While the Israelites were rushing to pack up their stuff, God pulled Moses aside in chapter thirteen to lay down some ground rules. The first was about forever observing the night of the Lord, the night that God's people were set free. The second rule was to set aside the firstborn child and animal because they were untouched by the tenth plague now that it was over. They were considered special to God.
Later in verses 11-16, the rule changes slightly. Only the firstborn males were set aside, then the firstborn animals (including lambs) were sacrificed to redeem the first-born of man in remembrance of the tenth plague. Jesus was the final illustration of this sacrifice for man by becoming the sacrificial Lamb on the cross to bring about the redemption of sin.
In Leviticus 27:30, the Lord lays out the rules for tithing a bit more.
"And all the tithe of the land, whether of the seed of the land or of the fruit of the tree, is the Lord's. It is holy to the Lord. And concerning the tithe of the herd or the flock, of whatever passes under the rod, the tenth one shall be holy to the Lord."
These verses are the only mention of a particular amount (one-tenth) that God requires for tithing in the entire Bible. Verses 31-33 has some instructions if you're looking to redeem your tithe, in which case it will end up being about 23% instead of 10%. But most people aren't going to ask for their money back, right? So, the prevailing amount is 10%.
More Commands to Tithe
God talks about tithing again in Deuteronomy 14:22-29:
"You shall truly tithe all the increase of your grain that the field produces year by year." v.22
"At the end of every third year, you shall bring out the tithe of your produce of that year and store it up within your gates. And the Levite (the priest), because he has no portion or nor inheritance with you, and the stranger and the fatherless and the widow who are within your gates may come and eat and be satisfied, that the Lord your God may bless you in all the work of your hand which you do." v.28-29.
There are many mentions of tithing throughout the Bible. Possibly the most famous verse is Malachi 3:10, which says, "'Bring all the tithes into the storehouse, that there may be food in My house. Test Me in this,' says the Lord of hosts, 'If I will not open for you the windows of heaven and pour out for you such blessing that there will not be room enough to receive it."
Malachi 3:10 is the only verse in the Bible where God invites us to test Him. It's interesting that He would choose this one-time invitation to be focused on tithing. It means setting aside the first part is special to Him. Tithing specifies that something is holy, and it's a form of worship.
So, we are commanded to tithe as a way of giving thanks and praise to the Lord for what He has done for us. But tithing is also about experiencing His blessing when we are obedient to do it. We receive the blessing, but what's even better is that the blessing is shared with others because tithing benefits everyone in the church.
Everyone benefits when we tithe.
Bring It to the Storehouse
Tithing wasn't just about whoever was born first. As we were mentioning, it was also about whatever you were farming at the time, so the command was to bring the first 10% of the harvest (the "first fruits") to the temple. The tithe was a way of saying thanks for what God had provided to you and your family. Makes sense.
That was all well and good back in Biblical times, but how does the idea of the first fruits apply to people today who don't farm? Not too many of us trade and barter to get what our families need anymore. We're not trading a goat to get three chickens, right? But we do have jobs (most of us, anyway) that pay us money. Whatever your paycheck is, whenever you get one, that is your "harvest." The tithe is the first 10% of that paycheck. So, you if were paid $500, $50 of it is due back to the Lord.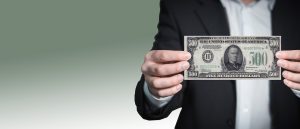 Note that the tithe is not like paying a bill. Yes, we owe a tithe to the Lord. But remember, it's primarily about worshipping Him and thanking Him for all He has done to provide for our needs.
Though 10% is the amount God commanded, He's more interested in your obedience with your finances. If 10% is more than your budget can handle right now, then try to commit to, say, 3% or 5%. The point is about making a commitment to the Lord. Over time, you can work up to 10%, and the Lord will bless it.
For First-Time Tithers
Some people have never tithed before, so they're a little nervous about letting go of their money. This is especially true for people with limited income. Despite our financial struggles, God has warned us that we can't serve two masters- Him and money (Luke 16:13). We should serve only Him and trust Him with the money. So, if you're just starting out, try to commit to a certain amount, whatever that may be. Tithing is about your commitment and obedience, not the amount.
Remember the verse in Malachi 3:10 where God tells us to bring our tithes to the storehouse. And then He says, "Test Me in this…If I will not open for you the windows of heaven and pour out for you such blessing that there will be not room enough to receive it."
So, go ahead. Test Him and see what happens. All you have to do is commit to a certain amount; then you will see how God will bless you for your obedience.
I've always tithed 10% even when the bank account was near zero. I believe that's why I've never lacked anything I've needed. Of course, that means I don't always get to enjoy anything I want. Shopping for new clothes is a rare occasion. But I've always had what I needed– a roof over my head, food in the fridge, gasoline in the car (not to mention the car), and enough laundry detergent for my family of five. That's the proof of God's provision. And because God is so good, we even get to go out to eat once in a while.
The Right Kind of Fruit

Be aware that the Lord commands us to give the first fruits. Not the last. In other words, before you spend a dime of it on anything, whether household bills or going to the movies, you should tithe 10% to the Lord. I would highly advise getting in the habit of setting it aside as soon as you're paid or else Satan will tempt you to spend it.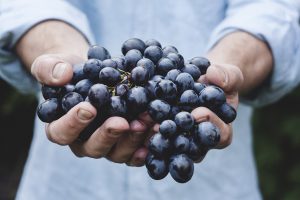 He'll trick you into thinking that it's okay to go to the movies because there will still be money left over to pay the tithe. No harm, right? Then, before you know it, you've bought popcorn and soda for the whole family and then decided to go out to dinner because no one feels like cooking. You'll probably have a great time, and that's wonderful, but you'll get to church on Sunday and suddenly realize that your wallet is empty. It's at that moment you'll realize Satan struck again. That's not good.
Get into the habit of setting the tithe aside as soon as you get paid so you can avoid Satan's trap. Check with your church to see if they have automatic withdrawal. It's a great idea for anyone who gets paid a regular amount each week or month. If you have a variable income (like me), then you'll need to be regularly intentional about tithing.
Dave Ramsey has a great budget structure that I've seen people get out from under thousands of dollars of debt. His Financial Peace University teaches to "Give- Save- Spend." Give the tithe to the church first, then put another 10-20% in savings (pay yourself), then spend the rest on bills. If there's any money left after all that, then hop in the car and go see the movie.
Trust me; you'll enjoy the movie a lot more knowing that you're not spending money you don't have while keeping your tithe prioritized.
The Difference Between Tithes and Offerings
After you tithe, you can make an offering. What's the difference between the two? Basically, a tithe is a command, and an offering is optional, although highly encouraged. An offering is anything that's above and beyond the tithe. It can be any amount you wish as long as it doesn't make you compromise your budget.
Give your first offering to the church. Yes, you've tithed, but that's for general assistance for the church to keep their doors open. An offering would be used to support their specific programs. Your offering could be used to keep diapers in the baby care area, to purchase arts and crafts supplies for preschoolers, to help put on the summer VBS curriculum, to support local and overseas missions, or to buy food for the soup kitchen. These are all necessary things that the church does to support the body of Christ itself while still reaching out to the community.
If you're still able, your second offering can be given to someone outside of the church. Many people "adopt" a child from overseas or donate to mission organizations or schools or homeless shelters.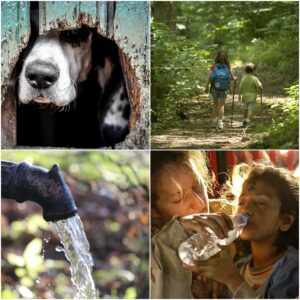 You might be wondering if your second offering must be given to a Christian organization. While it would be great if it were Christian-based, it's not a requirement. There are many worthy organizations doing amazing work to support people, animals, the environment, and much more. There is need everywhere, so go ahead and give if you like. But do yourself a favor and check that the organization is reputable and accountable. You don't want to give someone your money only to find out it was all a scam.
I like to give to the Humane Society and to a local home for orphaned children. My husband supports an organization that builds medical clinics, schools, and churches in developing countries. You might have similar organizations where you live.
Remember that wherever you sow seed, that's where you reap a harvest (Galatians 6:7). Give your first offering to the church and then donate to others.
Put Him to the Test
Tithing can be a difficult thing to do if you've never done it before, but if you truly want to experience God's blessings, then tithing is an essential part of building your faith in Him. He longs to bless your obedience, so give it a try. After all, He wants you to test Him. Give it a good three to six months before you make any judgments about it. But I'm pretty sure you'll discover what I have- that it's more worthwhile than you ever thought possible. That's the glory of God.
Further Reading
Dave Ramsey is an amazing Christian author and financial planner. His Financial Peace University has helped thousands of people shave, literally, billions of dollars off their debt. If you haven't taken his class, you can study all of his proven money-saving techniques in his book, Dave Ramsey's Complete Guide to Money: The Handbook of Financial Peace University, where he also covers insurance, mortgage options, marketing, bargain hunting, and, of course, giving.
Click here to order from Amazon, or you can click here to order from Christianbook.com. It's worth every penny!
Please follow and like us: