It's full-on summer time! Time to get out and enjoy some fun in the sun (with sunscreen, of course) and help others. Here's what's going on in our area right now plus a look ahead to Christmas (yep, already). 
And don't forget to check out which incredible Christian music artists are coming to the Sunshine State this fall. Just click here. 
Hillsborough River and Coastal Cleanup
September 16, 2017
8:00 a.m. at various locations
http://keeptampabaybeautiful.org/
Keep Tampa Bay Beautiful presents the Hillsborough River & Coastal Cleanup on Saturday, September 16, 2017, as part of the International Coastal Cleanup at various sites along the Hillsborough River, Alafia River, Little Manatee River, Lake Thonotosassa and other waterways throughout Hillsborough County. Unlike a typical litter removal event, the annual Hillsborough River & Coastal Cleanup offers the opportunity for volunteers to engage in vital international research activities by taking on the role of "Scientist for a Day."
With a specific focus on water-based natural resource protection and activism, volunteers collect items and record the data to identify the number and type of littered items, the overall tonnage of debris removed from each site, and the amount of recyclable materials diverted from ending up in our landfills. This information is used to determine future requirements for cleanup initiatives, assess projects that are needed in the area, and develop awareness of these needs within the local communities who share these waterways. Data is shared with Keep America Beautiful, the Ocean Conservancy as well as local officials to help provide a local and global perspective.
All locations are on a first come-first served basis for requests. Site locations will be allotted first to groups that officially participate in the Adoption Program (Adopt-A-Park, Adopt-A-Road, Adopt-A-Shoreline). Contact Keep Tampa Bay Beautiful for more information and to sign up to be a Site Captain. Volunteer registration begins August 14th!
Friday Nights with the Rays
Tropicana Field, St. Petersburg, FL
www.RaysBaseball.com/1-888-FAN-RAYS
The Rays have made taking your family to see a baseball game more affordable than ever. Come out to a game on Friday nights for 7/11 Fridays. Every ticket is only $7.11 when you present a discount coupon from 7/11 convenience stores. And Tuesdays are still $2 hot dog days and Sundays are family fun days where kids 14 and under receive a free gift while supplies last. Come on out, bring your family, and show your support for your Tampa Bay Rays! RaysUp!
Bucs Training Camp
One Buc Place, 1 Buccaneer Place, Tampa, Florida, next to Raymond James Stadium
Now through August 26, 2017
8:45-10:30 a.m. Days of the week vary.
Free admission!
Bring the kids and watch the Tampa Bay Buccaneers prepare for the 2017-2018 season. Look for HBO's "Hard Knocks" crew filming the team. Discounted concessions, merchandise tents, and appearances by the cheerleaders and Captain Fear will be on-hand. Player autograph sessions occur after each practice. Bring some water and sunscreen and head out for some family fun!
FREE First Tuesdays at the Glazer Children's Museum
110 W. Gasparilla Plaza, Tampa, Florida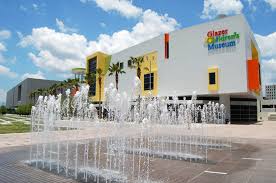 813-443-3861
12:00 to 7:00 p.m.
Every first Tuesday is free admission to the Glazer Children's Museum courtesy of the Children's Board of Hillsborough County. Enjoy all the hands-on exhibits including their current Pop Art exhibit, which teaches kids screen printing, stamping, and other techniques to create their own portrait for the gallery wall.
Tampa Bay Skating Academy in Clearwater and Oldsmar
Clearwater Ice Arena: 13940 Icot Blvd, Clearwater; (727) 536-5843
Westfield Countryside Mall: 27001 U.S. 19 North, Clearwater; (727) 723-7785
Tampa Bay Skating Academy in Oldsmar: 255 Forest Lakes Blvd. North, Oldsmar; (813) 854-4010
Get out of the heat and out on the ice this summer. Enjoy either catching hockey players and figure skaters practicing or getting out on the ice yourself during one of their public sessions. Sessions cost $11.00 with a $5.00 skate rental. Mondays are $6.00 "cheap skates" sessions with $5.00 skate rental. Visit www.tampabayice.com to view their full schedules.
Paddle for Peace
Saturday, September 30, 2017
8:00 a.m. in downtown Tampa
Join The Spring of Tampa Bay for Paddle for Peace, a public paddle boarding event to highlight and raise funds for helping those affected by domestic violence. Registration is $40 (price goes up after 9/25) and sponsorships are available.
Go Outside
Spend some time with the family exploring nature and God's creation. Information about park and beach locations near you is available at:
Hillsborough County Parks, Recreation, and Conservation, http://www.hillsboroughcounty.org/facilities
Pinellas County Parks and Preserves, http://www.pinellascounty.org/park
Pasco County Parks, Recreation, and Natural Resources: http://www.pascocountyfl.net/index.aspx?NID=296
Polk County Parks and Recreation: http://www.polk-county.net/boccsite/departments/parks-and-recreation/
Manatee County Parks and Natural Resources: https://www.mymanatee.org/home/government/departments/parks-and-recreation.html
Star Wars "A New Hope" in Concert
Ruth Eckerd Hall, Clearwater, FL
Tuesday, October 10, 2017 at 8:00 p.m.
Tickets are $102.75, $72.75, and $62.75.
727-791-7400
https://www.rutheckerdhall.com/event/star-wars-live-concert
For one night only, enjoy the Tampa Bay feature film premiere of Star Wars: A New Hope in Concert with the Orlando Philharmonic Orchestra as they perform John Williams' musical score as the film is shown. Tickets are on sale now.
Get Ready for the Holidays!
Ruth Eckerd Hall is offering two live stage reenactments of these children's classics:
"A Charlie Brown Christmas"
Saturday, December 16, at the Capitol Theatre in Clearwater, Florida.
Shows begin at 2:00 p.m. and 7:30 p.m.
The Emmy® and Peabody award-winning story by Charles M. Schulz has been a longstanding tradition, warming the hearts of millions of fans since it first aired on television over 50 years ago. Now, the live stage adaptation of the classic animated television special brings all your favorite characters to life – all set to the unforgettable sounds of the Vince Guaraldi musical score. Join Charlie Brown, Snoopy, Lucy, Linus and the rest of the Peanuts gang in their journey to uncover the true meaning of Christmas.
Tickets: $35-100.00
"Rudolph the Red-Nosed Reindeer the Musical"
Friday, December 22, at Ruth Eckerd Hall on McMullin Booth Road.
Shows begin at 3:00 p.m. and 7:30 p.m.
The beloved TV classic Rudolph The Red-Nosed Reindeer soars off the screen and onto the stage this holiday season. Come see all of your favorite characters including Santa and Mrs. Claus, Hermey the Elf, the Abominable Snow Monster, Clarice, Yukon Cornelius, and, of course, Rudolph, as they come to life in Rudolph The Red-Nosed Reindeer The Musical. It's an adventure that teaches us that what makes you different can be what makes you special. Don't miss this wonderful holiday tradition that speaks to the misfit in all of us. Rudolph the Red-Nosed Reindeer animated television special adapted from a story by Robert L. May and the song by Johnny Marks, music and lyrics by Johnny Marks. All elements © and ™ under license to Character Arts, LLC.
Tickets: $35-150.00
Order online at www.RuthEckerdHall.com/Broadway or call 727-791-7400. Dining options available.
Please follow and like us: