There's a little nip in the air, which means Fall is here and the Tampa Bay area has lots of fun planned. Here's what's going on in our area right now plus a look ahead to Christmas (yep, already). 
And don't forget to check out which incredible Christian music artists are coming to the Sunshine State this fall. Just click here. 
2017 Fall Festivals
Harvest Moon Farm

15990 Stur Street, Masaryktown, FL 34604
1-800-373-4811
Saturdays and Sundays now through November 5, 2017
10:00 a.m. to 5:00 p.m.
Adults and kids 3+ $11.95 plus tax. $2.00 military discount.
Now in its fifth season, enjoy the seasonal corn maze, pumpkin patch, cow train, petting zoo, jumping pillow, an educational experience with Spookley the Square Pumpkin, barnyard playground and games, pony rides ($5 extra), hill slide, cart rides, and live entertainment sponsored by 99.5 WQYK.
The corn maze will be open after-dark for flashlight fun. Cost is $10 plus tax, adults and kids 3+ only. All daytime activities will be closed.
Sweetfields Farm
17250 Benes Roush Rd. Masaryktown, Fl 34604
(352) 279-0977
Weekends now through November 5, 2017
10:00 a.m. to 5:00 p.m.
Ages 12+ $9.50 plus tax; kids 3-11 $5.00 plus tax. Kids 2 and under free. Additional cost for some activities.
Unfortunately, the farm lost its corn maze due to Hurricane Irma. But that's not stopping Sweetfields Farm from still offering up a lot of fun. This year they'll have hay rides, a hay maze, petting zoo, pig and duck races, spider maze, treehouse play area, pumpkin patch, tumbleweed rollers, and a storyteller. Games, face painting, pumpkin painting, pony rides, and food and drink are an additional cost.
Hunsader Farms 26th Annual Pumpkin Festival
5500 C.R. 675 Bradenton, Fl 34211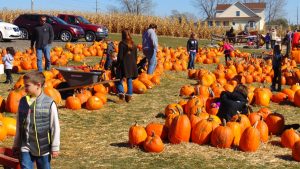 941-322-2168
https://www.hunsaderfarms.com/pumpkin-festival
Weekends October 14-29, 2017
9:00 a.m. to 5:00 p.m.
Adults and kids 12 and up, $10; $5 parking.
Enjoy live music, craft show, a pioneer village, hayrides, petting zoo, barnyard playground, jugglers, sculptors, and a frog jumping contest. For an additional price you can also enjoy a corn maze, rock climbing wall, zip lining, face painting, train rides, explore a butterfly garden, purchase pumpkins, and participate in charity pumpkin games. All food and drinks are also an additional cost.
Lawn and Garden Workshops
Join the UF/IFAS Extension Service this fall to learn how you can get your lawn and garden ready for next spring. The Extension Service holds workshops all over Florida. Here are the workshops coming up in the Tampa Bay area:
Blueberry and Blackberry Growing
Saturday, October 14, 2017
Land O' Lakes Community Center, 5401 Land O' Lakes Boulevard, US Highway 41, Land 'O Lakes, FL
9:00 a.m. to 10:30 a.m.
Are you considering growing blueberries or blackberries? Let a professional grower teach you how to grow succulent berries successfully in Florida in this FREE workshop.
Problems in the Bee Hive: What is the Importance of Beekeeping
Saturday, October 14, 2017
9:00 a.m. to 11:00 a.m.
UF/IFAS Extension Manatee County, 1303 17th Street West, Palmetto, FL
This workshop will give a quick overview of basic beekeeping then jump into the issues honeybees combat in their hives. We will introduce the main environmental pressures that honeybees deal with inside their "managed" beehive and the importance of pollen and nectar plants in the landscape. Take home a free pollinator plant (limited supply).
Rain Barrel Workshop
Saturday, October 21, 2017
10:00 a.m. to 11:00 a.m.
UF/IFAS Extension & Sustainability Office, Twin Lakes Park, 6700 Clark Road, Sarasota, FL
Learn how the use of rain barrels can conserve water, save money by reducing the use of potable water in landscapes (lower utility bills), and reduce stormwater runoff by storing and diverting runoff from impervious surfaces (like roofs). Practical tips on the construction and installation of rain barrels will be provided. Register early through Eventbrite.com to reserve your spot and receive notice of any changes.
After the class, Sarasota County government will sell rain barrels for $37 each, including tax and spigot assembly. Payment must be made by cash (exact change only) or check. Make checks payable to: Sarasota County Board of County Commissioners.
For more information, please call 941-861-5000 or email sarasota@ifas.ufl.edu.
NOTE: Classes and events may be canceled at any time due to low registration or other circumstances, with full refunds issued for paid events. Similar classes or events often are offered on future dates.
Lowry Park Zoo Events
Creatures of the Night
Friday and Saturday nights, October 6-28, 2017
Creatures of the Night returns for more after-dark fun. Hoot, howl and hang out as the Zoo transforms into a family-friendly, immersive Halloween adventure. Creatures emerge at dusk with startling surprises around every corner. No horror or gore, just fun frights for all! The fun begins at 4:00 p.m. and is included with paid admission.
Christmas in the Wild
Select nights in November and December
Tampa's Lowry Park Zoo is transforming into a world of winter wonder for our brand new Christmas in the Wild event! For 19 delightful nights, enjoy a merry and memorable evening with this unique but traditional holiday event in the special setting of the Zoo at night. From the sights of stunning lights, the seasonal smells of holiday treats, the excitement of festive entertainment and the magic of wildlife at night, Christmas in the Wild will offer guests of all ages a uniquely immersive holiday experience.
FREE First Tuesdays at the Glazer Children's Museum
110 W. Gasparilla Plaza, Tampa, Florida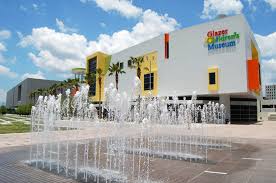 813-443-3861
12:00 to 7:00 p.m.
Every first Tuesday is free admission to the Glazer Children's Museum courtesy of the Children's Board of Hillsborough County. Enjoy all the hands-on exhibits including their current Pop Art exhibit, which teaches kids screen printing, stamping, and other techniques to create their own portrait for the gallery wall.
Tampa Bay Skating Academy in Clearwater and Oldsmar
Clearwater Ice Arena: 13940 Icot Blvd, Clearwater; (727) 536-5843
Westfield Countryside Mall: 27001 U.S. 19 North, Clearwater; (727) 723-7785
Tampa Bay Skating Academy in Oldsmar: 255 Forest Lakes Blvd. North, Oldsmar; (813) 854-4010
Get out of the heat and out on the ice this summer. Enjoy either catching hockey players and figure skaters practicing or getting out on the ice yourself during one of their public sessions. Sessions cost $11.00 with a $5.00 skate rental. Mondays are $6.00 "cheap skates" sessions with $5.00 skate rental. Visit www.tampabayice.com to view their full schedules.
Go Outside
Spend some time with the family exploring nature and God's creation. Information about park and beach locations near you is available at:
Hillsborough County Parks, Recreation, and Conservation, http://www.hillsboroughcounty.org/facilities
Pinellas County Parks and Preserves, http://www.pinellascounty.org/park
Pasco County Parks, Recreation, and Natural Resources: http://www.pascocountyfl.net/index.aspx?NID=296
Polk County Parks and Recreation: http://www.polk-county.net/boccsite/departments/parks-and-recreation/
Manatee County Parks and Natural Resources: https://www.mymanatee.org/home/government/departments/parks-and-recreation.html
Star Wars "A New Hope" in Concert
Ruth Eckerd Hall, Clearwater, FL
Tuesday, October 10, 2017 at 8:00 p.m.
Tickets are $102.75, $72.75, and $62.75.
727-791-7400
https://www.rutheckerdhall.com/event/star-wars-live-concert
For one night only, enjoy the Tampa Bay feature film premiere of Star Wars: A New Hope in Concert with the Orlando Philharmonic Orchestra as they perform John Williams' musical score as the film is shown. Tickets are on sale now.
Get Ready for the Holidays!
Ruth Eckerd Hall is offering two live stage reenactments of these children's classics:
"A Charlie Brown Christmas"
Saturday, December 16, at the Capitol Theatre in Clearwater, Florida.
Shows begin at 2:00 p.m. and 7:30 p.m.
The Emmy® and Peabody award-winning story by Charles M. Schulz has been a longstanding tradition, warming the hearts of millions of fans since it first aired on television over 50 years ago. Now, the live stage adaptation of the classic animated television special brings all your favorite characters to life – all set to the unforgettable sounds of the Vince Guaraldi musical score. Join Charlie Brown, Snoopy, Lucy, Linus and the rest of the Peanuts gang in their journey to uncover the true meaning of Christmas.
Tickets: $35-100.00
"Rudolph the Red-Nosed Reindeer the Musical"
Friday, December 22, at Ruth Eckerd Hall on McMullin Booth Road.
Shows begin at 3:00 p.m. and 7:30 p.m.
The beloved TV classic Rudolph The Red-Nosed Reindeer soars off the screen and onto the stage this holiday season. Come see all of your favorite characters including Santa and Mrs. Claus, Hermey the Elf, the Abominable Snow Monster, Clarice, Yukon Cornelius, and, of course, Rudolph, as they come to life in Rudolph The Red-Nosed Reindeer The Musical. It's an adventure that teaches us that what makes you different can be what makes you special. Don't miss this wonderful holiday tradition that speaks to the misfit in all of us. Rudolph the Red-Nosed Reindeer animated television special adapted from a story by Robert L. May and the song by Johnny Marks, music and lyrics by Johnny Marks. All elements © and ™ under license to Character Arts, LLC.
Tickets: $35-150.00
Order online at www.RuthEckerdHall.com/Broadway or call 727-791-7400. Dining options available.
Please follow and like us: