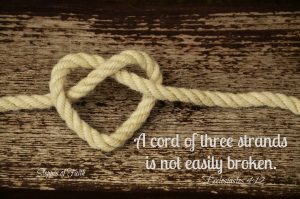 "A cord of three strands is not easily broken." Ecclesiastes 4:12
I'm not looking forward to the weekend. See, my husband, Dave, is leaving in a few days on a trip to see his parents for a week. Alone. Without me. For a lot of women, this may not be a big deal. It may even be a time of jubilation. But not for me it's not good. It's going to be a hard time saying goodbye.
Dave and I don't spend much time apart. From the moment we met we've been almost inseparable. We did everything together and we still do. Before we were married, he was invited to help film a commercial in Patagonia Chile (he owns a hot air balloon). He needed an assistant and my boss was gracious enough to give me a spontaneous two weeks off. It was an amazing experience and one that set the tone for our entire marriage.
I kept helping Dave, but after my first son was born, I found myself unemployed so I went to work with him full time, continuing to be his right-hand gal. Even after I could no longer go into the field with him, I continued to help run the business end of things since his office is in our home.
He decided to try real estate in addition to running his balloon company, and I jumped into freelance copywriting. Both work from home jobs. We put our laptops next to each other on our dining room table. Sometimes I help him and sometimes he helps me.
We get the kids ready for school and bed together, pick them up from school together, cook dinner, work out at the gym, ride bikes, play with the boys, take day trips, paint the house, shampoo carpets, run errands…everything is together. And we like it that way. He's absolutely the one God chose for me to love all of my life, both here on earth and in eternity. Some might call him my soul mate. To me, he's my forever love.
And now we're going to be apart for a week. It's tough to face.
It's All Good
Oh, I know it will all be okay. I'll get used to it and carry on as usual. I know God will give me strength to endure the days (Philippians 4:13). But in the moments when I wish he was there, I may let myself be sad for a moment, but then I will remember God's good promises for us.
It doesn't really matter where we are at any given moment of each day. God promised us that He is always with us, that He will never leave us or forsake us. Hebrews 13:5 tells us,
"Be content with such things as you have. For He Himself said, 'I will never leave you or forsake you.' So we may boldly say, 'The Lord is my helper, I will not fear. What can man do to me?'"
This is a very comforting promise from God. When the days get hard to handle and it all just seems too much, I can rely on our unchanging God to stay with me and help me. I don't need to fear anything because God is on my side.
We're All Under the Same Moon and Stars
I remember watching an episode of "Little Bill" with my boys once. If you're not familiar, it's about a family that lives in New York City and how they deal with the same challenges all families have. It's a very gentle television show for preschoolers to illustrate how to handle certain situations.
In this particular episode, a dear friend of the family was moving far away and Little Bill was having a hard time saying goodbye. The night before she left town, she told Little Bill to look up and see the moon and stars. She sang a song to him that said we all live under the same moon and the same stars, and whenever we see them we can be comforted knowing we're all looking at the same thing. And then the people we love don't seem so far away. Isn't that a precious thought?
Now, take that a step farther. It's not just the moon and stars we live under together. We also live under the same heaven with the same God who rules over everything. His hands stretch across the earth and His love covers us all. When we all look up into the sky, we can feel God's love like a warm ray of sunshine. When we see the twinkling stars, we can feel His smile and grace. I can look up and see God and so can Dave no matter how far apart we are. We can still be together because of God's all-encompassing love and because of the love we have as husband and wife. Our bond of marriage is strong because of Christ.
That's a good thing to hold onto.
Goodbyes Can Be Good Reminders
Maybe God is reminding me to not take my marriage or Dave for granted. Maybe He's telling me to appreciate him just a little bit more. And maybe it's a good reminder that coming home is always a beautiful thing so I shouldn't dwell on the sadness of him leaving. The "glass half full" way of thinking is to remember that he's coming back and the reunion will be amazing. It will be a time of overflowing joy! Hugs and kisses all around! I like that thought.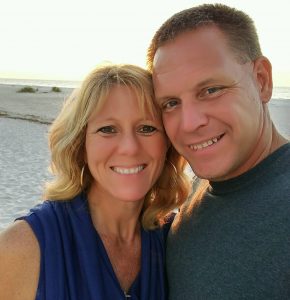 I know this probably won't be the last time we have to be apart. It certainly won't be the last time I have to say goodbye to someone I love, like my boys going off to college or maybe even the loss of a parent or a dear pet. Regardless of the circumstances, I can trust that I never have to say goodbye to God. His presence is always with me; He is always holding my right hand. At the very same time, He's with our loved one too.
The miles may be long, but our hearts are close. I can't wait for it to be over.
Your Turn
Saying goodbye to a loved one isn't always easy, whether it's for a short while or many weeks or months. How have you relied on God to help you through the sadness of being apart from someone you love? How did God lead you to experience hope and joy again? Leave us your comments as we continue to encourage each other.
Further Reading
You can read more about what the Bible says about love and marriage here. (link to 5 Pillars: Love Part 4)
Please follow and like us: